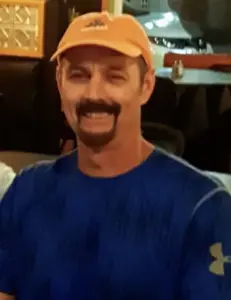 Jeffrey D. "Jeff" Lowhorn, age 62, of Straughn, passed away Thursday, July 27, 2023, at his home. He was born, November 17, 1960, in Rushville, Indiana to Paul Lowhorn & the late Barbara (Mercer) Lowhorn.
Jeff loved life and lived it to its fullest. He was a 1979 graduate of Tri High School where he excelled in athletics. Jeff was a "natural" athlete and very rarely found something he was not great at. He married the love of his life, Paula Pierce on April 19, 1986, and enjoyed several years of marriage. He ran the Sky Vue Drive-In for 13 years and more recently with his wife, Paula, they owned and operated the Flower Studio in New Castle and loved his time assisting his son, Justin with Hoosier Auto Repair. Jeff has worked for Draper Inc for nearly 37 years.
Jeff was involved in all athletics and was always seen at the events of his grandchildren. Jeff loved coaching his children and many others throughout the years in all the sports they participated in. In more recent years, he enjoyed talking to and supporting his daughter Lauren with bodybuilding and spent every Friday and Sunday on the golf course with Justin as well as many games on the softball diamond together. He has been an avid weightlifter for years. He was an avid softball player, playing up until the night before his passing, and enjoyed watching IU basketball. More than anything he enjoyed his time with his precious family, especially the grandchildren.
Jeff is survived by his wife Paula: children; Justin (Bridgett) Lowhorn & Lauren (Collin) Grogan: 4 grandchildren; Mackenzie, Emma & Olivia Lowhorn and Oliver Grogan; three brothers; David (Stacie) Lowhorn, Jim Lowhorn & Darin (LaDonna) Lowhorn: father, Paul M Lowhorn: mother-in-law Marilyn Pierce as well as several nieces, nephews, cousins, friends, and extended family survive.
Jeff is proceeded in death by his mother listed above, two brothers Terry & Tony Lowhorn and father-in-law Paul Pierce.
Visitation for Jeff will take place on Monday July 31, 2023, from 4:00 ~ 8:00 PM at Victory Church (Old Marsh) 2915 S 14th in New Castle. Funeral services to celebrate Jeff's life will take place at 10:00 AM Tuesday August 1, 2023, at the church. Burial will take place at Lewisville Cemetery.
In lieu of flowers, memorial contributions may be made the Pap's Pocket Memorial Fund for Eldon "Eck" Huffman at the Henry County Community Foundation.
Rose City Funeral Home directors and staff are honored to serve the Lowhorn family. On-line condolences may be made at www.rosecityfunerals.com.