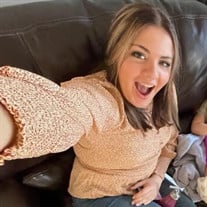 Jeneka Lynn Lancaster, 15, of Kennard passed away following injuries sustained in an automobile accident Monday, April 10, 2023. She was born September 19, 2007 in Cincinnati, Ohio to Jonathan "Luke" and Anisha Lancaster.
Jeneka was a sophomore and very active student at Tri Junior-Senior High School. She has been a cheerleader since age 3 and currently a 2nd year varsity cheerleader.  She enjoyed archery, ran varsity track and was also the team manager. Jeneka was inducted into the National Honor Society as well a member of FFA and Treasurer of the Student Council. She had many future goals that included studying Kinesiology/Law Enforcement. She was recently accepted into the New Castle Career Center for the building trades program. Jeneka loved arts/crafting with her mom, fishing and shooting guns, sweet tea, sour candy/gummies and bagel dip.
She is survived by her parents, Luke and Anisha Lancaster; brothers, Skylar and Gabe; maternal grandparents, Holly Piersall Dehner, Ilko Weaver and Jon Schoepflin; paternal grandparents; Kenneth (Janet) Lancaster; aunts and uncles, Katie Hendrick, Jeff (Sam) Amos and Trevin Schoepflin; great aunts and uncles; Ruth (Gil) Murphy and Sam (Katherine) Shelton; cousins, Gib Blair and Matt Murphy, many extended family members and friends and her party cove tribe family.
She is preceded in death by several great grandparents.
Visitation will be from 3:00 – 8:00 p.m. Friday, April 14, 2023 at Hinsey-Brown Funeral Service in New Castle. A celebration of Jeneka's life will be held at 1:00 p.m. Saturday, April 15, 2023 at Tri Jr./Sr. High School Gymnasium, 6972 S. State Road 103 Straughn, IN 47387, with Pastor Dan Jones officiating. Please enter through the southwest entrance # 21. The family requests that attendees dress casual and wear pink, burgundy or white. In lieu of flowers, please make contributions to the Jeneka Lynn Lancaster Scholarship Fund, c/o Henry County Community Foundation, P.O. Box 6006, New Castle, Indiana 47362. You may express condolences or share a memory of Jeneka at www.hinsey-brown.com.