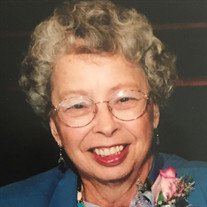 Jo Ann McCormack, 88, of Spiceland passed away Thursday, January 31, 2019 at Timbercrest Retirement Center in North Manchester, IN. She was born April 14, 1930 in Spiceland to the late Wilbur and Esther (Draper) Coffin.
A lifelong resident of Spiceland, she moved to Timbercrest Retirement Center in North Manchester, IN 6 years ago. Jo Ann taught 4th grade at Greenstreet Elementary and Spiceland; 4th and 5th grade at Wilbur Wright in New Castle until her retirement. Jo Ann was a member of the Spiceland Friends Church, Eastern Star, ISTA, Pi Lamda Theta and Delta Cappa Gamma. She was the valedictorian of her high school class and graduated from Ball State with honors. Jo Ann is the author of "The Story of Our Language". She enjoyed reading, travel, stitchery crafts, family times and singing in the church choir.
She is survived by her husband of 68 years, Walter F. McCormack, Jr., children, Frances "Frankie" (Gary) Dawson, Sally (Marc) Wilson, and Kevin (Roberta) McCormack; grandchildren, Shannon Smith, Shelly Boone, Esther McDivitt, Aaron Dawson, Nathan Dawson, Sara Wilson, Ian Wilson, Tristram McCormack, Caitie McCormack; and 19 great-grandchildren.
In addition to her parents, she is preceded in death by a brother, Richard "Dick" Coffin.
Services will be at 1:00 p.m. Saturday, February 9, 2019 at Hinsey-Brown Funeral Service in New Castle with David Brock officiating. Burial will follow in Circle Grove Cemetery. Visitation will be from 10 a.m. – 1 p.m. prior to the service. Memorial Contributions may be sent to the Wilbur M. Coffin Memorial Fund, c/o Henry County Community Foundation, PO Box 6006, New Castle, IN 47362 or Spiceland Friends Church, PO Box 27, Spiceland, Indiana 47385. You may express condolences or share a memory of Jo Ann at www.hinsey-brown.com.