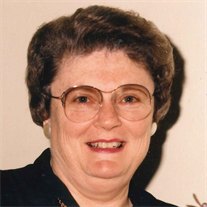 Joan Carnahan Stairs, age 88, of New Castle, Indiana passed away on April 5, 2017. She was born on November 5, 1928 in Chicago, Illinois. After graduating from Alexandria High School with the class of 1946, Joan then enrolled in Ball State Teachers College and graduated in 1949 with a Bachelor of Science degree in secondary education. While at Ball State, she was a member of Psi Theta sorority and served on the Homecoming Committee.
She began her teaching career at Sulphur Springs High School in 1949-50. On May 28, 1950 Joan married Bill Stairs and they made their home in New Castle, Indiana. Joan was a stay-at-home mom while her daughters were young. In 1968 she continued her teaching career at St. Anne's School where she remained until its closing in 1982.
Following her teaching years, she was a coordinator for the New Castle Vocational School, teaching welfare classes and establishing a classroom for the homeless. In 1991 she was appointed the first executive director of the Henry County Community Foundation from which she retired in 1994.
Joan was very active for many years in the First Friends Meeting of New Castle where she served in leadership roles in the local meeting and Indiana Yearly Meeting.
Joan's inner light and faith came from deep within, from an unshakeable belief in the goodness, worth and value of every person, and she worked tirelessly to empower individuals and give voice to those in need and those that others would pass by. Passionate, persistent and highly organized, she volunteered to serve the New Castle community as a board member for a number of organizations, including: Westminister Community Center, Henry County Mental Health, United Fund of Henry County, Healthy Cities, Henry County Housing Advocacy Task Force,and Christian Love Help Center.
Joan was honored as Woman of the Year by the Women's Division of the Chamber of Commerce, 1988; Citizen of the Year by the New Castle Area Chamber of Commerce, 1989; President Bush's 98th Point of Light in 1990; and Area 6 Council on Aging Older Woman of the Year, 1994.
She held membership in a number of community organizations: American Business Women's Association, Delta Theta Tau Sorority, New Beginnings chapter, The Growing Tree Board, Girl Scouts, Henry County Memorial Hospital volunteer, Mayor's Human Rights Commission,and co-leader of the Integrated Services Project of Henry County.
Joan's family was always a very important part in her life and she was also blessed with many lifelong friends. Surviving are daughters, Margaret Bynum (Todd) of Fishers and Ann Vail (Mark) of Greenfield; four grandchildren, Jennifer Milliern (David) of Cambridge, MA., Lauren Vail of Noblesville, Julie Anderson (Brian) of Fishers, and Kyle Vail (Laura) of Indianapolis; brother-in-law Dale Stairs of New Castle; niece, Linda Stairs of New Castle and nephew, Charlie Stairs (Kim) of Leo, IN.
Joan was preceded in death by her parents, Robert and Edna Carnahan, her husband of 38 years Bill Stairs; in-laws, Murat and Elizabeth Stairs; sister-in-law, Martha Stairs and cousin Adrienne Burnett Owen.
Visitation will be on Sunday, April 9, 2017 from 2:00 – 4:00 PM at Hinsey Brown Funeral Service, New Castle, Indiana. Service will follow at 4:00 PM at the funeral home. A private burial will take place in South Mound Cemetery, New Castle. Memorial contributions may be made to : The Christian Love Center, The New Castle First Friends Meeting, or God's Grain Bin of New Castle. You may express condolences or share a memory of Joan at www.hinsey-brown.com.