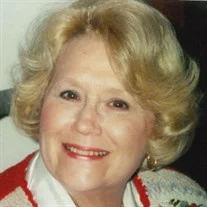 Joan Paul, 91 of New Castle passed away on Saturday, October 14, 2023. She was born on October 30, 1931, in Lewisville, IN to the late Virgil and Sarah (Smith) Thompson.
Joan was a 1950 graduate and class treasurer of New Castle High School. She was previously employed as a teacher's aide at Wilbur Wright School. Joan was formerly the curator of the Henry County Historical Society as well as a 50-year member of Tri Kappa Sorority and a long-time member of PEO sisterhood Chapter AD and Sorosis Literary Club. She was a lifetime member of First Christian Church where she served as an elder and sang in the choir. Joan was very active in First Nighters in New Castle, she also volunteered for RSVP and Henry County Art Center. She enjoyed gardening, painting, sewing, and antiquing. Joan loved spending time with family, visiting the Gulf of Mexico, and traveling.
She is survived by her daughter, Lizabeth (Mark) Curtis of Indianapolis; son, Byron T. (Jo Elaina) Paul of Cambridge City; daughter-in-law, Patty Paul of Knightstown; grandchildren, Jeffrey E. (Dana Kirkpatrick) and Matthew S. (Sarah) Widner and Ethan T. (Amber) Paul, Heather (Wesley) Wilburn, Lara, and Grace E. Paul; several great-grandchildren, nieces and nephews.
In addition to her parents, she is preceded in death by her husband, William T. Paul; son, Joseph H. Paul; granddaughter, Melissa Widner and several siblings.
Services will be at 1:00 pm Saturday, October 21, 2023, at Hinsey-Brown Funeral Service in New Castle with Rev. Ronn Oren officiating. Burial will follow in Glen Cove Cemetery in Knightstown. Visitation will be from 12:00 p.m. until the time of service on Saturday. Memorial contributions may be given to the Henry County Community Foundation, 700 S. Memorial Dr. New Castle, IN 47362. Envelopes will also be available at the funeral home. You may express condolences or share a memory of Joan at www.hinsey-brown.com.
To send flowers or a memorial gift to the family of Joan Paul please visit our Sympathy Store.