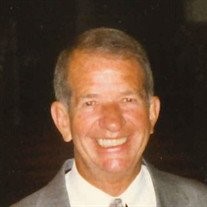 John J. Maher, 81, of New Castle passed away Friday, October 18, 2019 at Glen Oaks Health Campus, following an extended illness. He was born August 10, 1938 in Indianapolis, a son of the late Joseph A. and Mildred (Casey) Maher.
A 1956 graduate of New Castle High School, John also graduated from Notre Dame in 1960, where he majored in Business and played trombone in the Notre Dame Marching Band. He then joined his father's business, Maher Buick-Pontiac, in New Castle, which he owned and operated until 1981. He also worked in fleet and car sales for several dealerships in east central Indiana.
John was a former member of New Castle Rotary, the Notre Dame Alumni Band, an avid golfer and also enjoyed bowling. He had been a member of The Garden Club for over 65 years. He was a member of St. Anne Catholic Church and attended Holy Trinity Lutheran Church.
He leaves to cherish his memory, his wife, Linda S. (Hundt) Maher of New Castle; son, Casey (Stephanie) Maher of Muncie, and their children, Connor Maher of Columbus, OH, and Payton Maher of Muncie; daughter, Kelly Maher of Woodland Park, CO; son, Joe (Nicole) Maher of Nicholasville, KY, and their daughters, Darrah, Tarenne, Marley, and Emery Maher, all of Nicholasville, KY; son, Sean (LeeAnn) Kitchell of New Castle, and their children, Gabe and Erin Kitchell, both of New Castle; son, Adam (Julie) Kitchell of New Castle, and their children, Charli and Bijou, both of Lake Elmo, MN, and Josie and Jesse Privett of New Castle; several nieces and nephews; a brother in law, Fred Hundt of Knox, IN.
In addition to his parents, he was preceded in death by his sister, Marjorie Maher Herald Houser in 2016.
Services will be at 7:00 p.m., Wednesday, October 23, 2019 at Holy Trinity Lutheran Church in New Castle with Pastor Matthew Masko officiating. Visitation will be from 4:00 p.m. until time of service Wednesday at the church. Following cremation, private burial will be in St. Anne Cemetery at a later date. Memorial contributions may be given to the Holy Trinity Lutheran Church, 535 S. 14th St., New Castle, IN 47362, St. Anne Cemetery Association, 102 S. 19th St. New Castle, IN 47362, or the John J. Maher Named Fund, c/o Henry County Community Foundation, P.O. Box 6006, New Castle, IN 47362. You may share a condolence or memory of John at www.hinsey-brown.com.