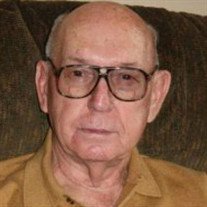 John Thompson, Jr., 88 of New Castle passed away Thursday, February 14, 2019 at Heritage House. He was born February 19, 1930 in Waynesburg, KY to the late John Jackson and Gracie (Carter) Thompson, Sr.
A veteran of the Korean War with the U.S. Army, he served with the 45th infantry for 14 months, he was awarded the Overseas Service Bar and the Korean Service Metal with one Bronze Star. John retired from Chrysler Corp. in New Castle in 1981. After retirement, he went into farming with the Cox family in New Lisbon for 15 years. An avid sports fan, he followed all five of his grandchildren's sporting events at Tri, Blue River and New Castle schools and continued to support athletic events after his grandchildren graduated. He was a baptized believer and member of the New Lisbon Christian Church since the mid 1990's. John enjoyed the outdoors, especially attending the Cincinnati Reds games, camping, hunting, fishing and loved bluegrass music.
He is survived by a daughter, Rita (Juan) Escalante of New Castle; sons, Greg (Brenda) Thompson of Lewisville and John Douglas Thompson of New Castle; grandchildren, Carisa (Dave) Whitefield, Cory Smith (companion, Courtney Macha), Travis (Tiffany) Thompson, Clint (Lisa) Thompson, Caylor Escalante (fiancé, Danielle Childers); six great grandchildren, Benjamin, Sydney, Rileigh, Jessa, Carter and Nathan; several nieces and nephews.
In addition to his parents, he was preceded in death by his wife of 66 years, Gladys Thompson on January 31, 2018, siblings; Martha Opal Thompson, James "Arthur" Thompson, William "Reuben" Thompson, Cecil Curman Thompson, Bessie Mae Mullins, Bernadine "Ruby" Gaddis, Nancy Ethel Mitchell and Garnetta Lee Thompson.
Services will be at 4:00 p.m. Saturday, February 16, 2018 at New Lisbon Christian Church with Pastor Mark Lomison officiating. Burial will follow in New Lisbon Cemetery with military rites being conducted by a contingent of the U.S. Army, American Legion and VFW. Friends may call from 2-4 p.m. Saturday at the church. In lieu of flowers, memorial contributions may be given to the Henry County Community Foundation, P.O. Box 6006, New Castle, IN 47362 or Titan Children's Fund, P.O. Box 77, Spiceland, IN 47385. Arrangements have been entrusted to Hinsey-Brown Funeral Service. Condolences and memories of John may be expressed at www.hinsey-brown.com.