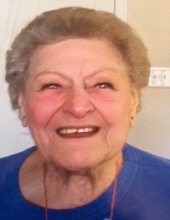 Joyce A. "Joy" Baase age 96, New Castle resident, went home to be with the Lord on Monday July 16, 2018.
She was born July 27, 1921 in Maryburough Queensland, Australia, a daughter of the late Cecil and Florence Griggs, she married Ray Baase on November 8, 11944 in Brisbane, Australia during WWII, arrived in New Castle in April 1946 and made New Castle her home since.
Joy became an active member of the First Christian Church for 50 years where she served in several areas of ministry including being a Choir Member soloist, Deaconess, Sunday School Teacher and member of the Bykota Sunday School Class.

Joy was a charter member of the "Teapot club", a war bride club that formed in 1946.
She had been employed by Kamfy Tugs Garment Factory for many years and also for Reide Studio and Walden Studio. Joy liked to sing gospel music, old hymns, praising God with her voice as a Testimony of Her faith, she loved people an enjoyed sharing God's love with them in song, word and deed. When she sang solo's she prayed to be a channel for Her God, who gave her a voice and she gave it back to him. He was always there for her.

Left to cherish her loving memory include a sister-in-law Valery Griggs of Australia and many nieces, nephews, cousins and close friend Lesley Reece over the years five girls came into her life whose parents shared them with her as daughters, Jane Kernel, Beth Curtis, Melissa Wallace, Sharon Branham and Sandy Wills, deceased.
She was also preceded in death by her beloved husband, Ray Baase in 1995, one sister Thelma Lumsden, four brothers, Less Griggs, Edwin Griggs, Colin Griggs and Cecil Griggs.

Visitation will be from 12 Noon until 2:00 PM on Friday, July 20, 2018 at First Christian Church.
Funeral services will be held at 2:00 PM Friday, July 20, 2018 at the First Christian Church, 2000 Bundy Ave., New Castle, Indiana with Pastor Alisha Gross and Pastor Paul Davis, officiating. Burial will follow in South Mound Cemetery.

Memorial contributions can be made to the Marilyn Tomey Memorial Scholarship Fund for Nursing, in care of the Henry County Community Foundation.
Arrangements by Macer-Hall Funeral Home and Cremation Service. Online condolences can be made at www.macerhall.com.