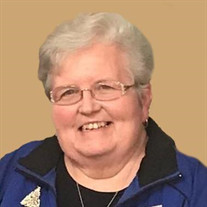 Judith Kay James, 73, of New Castle passed away Monday, June 25, 2018 at Henry Community Health. She was born June 10, 1945 in New Castle to Robert D. and Virginia L. (Heath) Johnson.
She married Max L. James on July 25, 1965 and together they owned and operated JuMa Tours for 22 years. This business opportunity allowed Judy and Max to travel all 50 states and lower Canadian Provinces, forming many long lasting friendships. Their mission statement has always been "Trust in the Lord with all thine heart and lean not unto thine own understanding. In all thy ways acknowledge Him and He will make your paths straight," Proverbs 3: 5 & 6. "To God be the Glory, great things He has done".
A lifelong resident of Henry County, Judy was a 1963 graduate of Walter P. Chrysler High School. She retired from Ball State Food Service after 10 years of service. Judy was a member of Henry County Homemakers Young Moderns Club. Judy was a key part of James Catering Service for many years. She and Max were an active part of the Country Couples farm couples group. Judy loved and served the Lord in many ways throughout her lifetime. She loved sewing, cooking, gardening and crafting. Judy never met a stranger and always had a smile to share. No one ever doubted how much they were loved when in Judy's presence.
She is survived by three children: Steven James of Scottsburg, Kimberly (Mike) Dickerson of New Castle, and Jennifer (Stephen) Swim of Mt. Summit; four grandchildren: Joshua (Kate) James, Jonathan James, Karen Dickerson and Matthew Dickerson; one great grandson: Landry James; three step-grandchildren: Kindsey Swim, MaKaelin (Austin) Helms and Karlee Swim; three step-great grandchildren: Ian and Felecity Howell and Declynn Helms; her mother: Virginia L. Johnson of New Castle; brother: Darryl G. (Linda) Johnson of Marco Island, FL; sister: Lois A. Johnson of New Castle; and several nieces, nephews and cousins, along with an abundance of life-long friends.
In addition to her father, she was preceded in death by her husband of 49 years, Max L. James, three grandchildren, Elizabeth, Nathanael, and Zachary Dickerson.
A Celebration of Life will be at 11:00 a.m. Saturday, June 30, 2018 at Hinsey-Brown Funeral Service in New Castle with her daughter, Kim Dickerson and her sister-in-law, Rev. Linda R. Johnson officiating. Burial will follow in Mooreland Cemetery. Visitation will be from 2 – 8 p.m. Friday, June 29 at the funeral home and from 10 – 11 a.m. prior to the service on Saturday. Memorial contributions may be sent to the Henry County Community Foundation, PO Box 6006, New Castle, IN 47362. You may express condolences or share a memory of Judy at www.hinsey-brown.com.
Click here to donate.