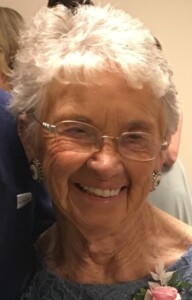 June Slick, 97, a longtime resident of Middletown—one who looked for the best in people, and even when it took some searching, either found it or brought it out in them—passed away Wednesday, May 18, 2022. She was born on August 26, 1924 in Richmond, IN, daughter of the late Roy Darland and Emma (Horr) Darland McClure.
June grew up in Richmond and graduated from Richmond High School in 1942. On January 5, 1945, she married Rex Slick. June and Rex settled in Middletown, where they owned and operated Slick Engineering until 1999. June was the office manager for the business and a homemaker for their four daughters.
June was meticulous, thoughtful, conscientious, and always in high heels. She had a unique ministry of sending heartfelt greeting cards to everyone in her life, often including personal messages in her beautiful penmanship.
The most important part of June's life was her walk with God: June read her Bible every morning. A long-time member of Sixth Street Christian Church and a current member of Honey Creek Methodist Church, June was active in Bible study and served as the church historian and secretary.
June and Rex enjoyed traveling over the years and hosted several "Family Round-Up" vacations. She loved dancing and attending MHS Cossacks and SHS Raiders sporting events. She also tolerated golfing, mainly because she wanted to spend time with Rex.
June loved to walk. She often won her age group in the Middletown Lions Club Fair 5K. With Rex, she was a pillar of the Middletown Community, supporting the Historical Society, the Middletown Library, and the Henry County Community Foundation, among countless others.
She is survived by her husband of 77 years, Rex Slick; daughters, Rexann (James) Fattic, Susan (Larry) Smith, Sandy (Alan "Buck") Painter and Terri (Terry) Reagan; grandchildren, Jessica, Mark, Sarah (Christopher), Bret (Amber), Ben (Dawn), Emily (RJ), Bryce, and Kelli (Brian); great grandchildren, Trinity, George, Charlotte, Rex, Daphne, and Cole.
Services will be at 11:00am Monday, May 23, 2022 at Ballard and Sons Funeral Home in Middletown. Burial will follow in Miller Cemetery. Visitation will be from 2:00pm-5:00pm Sunday at the funeral home. In lieu of flowers, donations may be given to the Henry County Community Foundation with envelopes available at the funeral home. You may express condolences or share memories of June at www.ballardandsons.com.