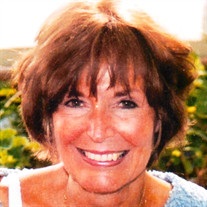 Karen Marcum, 75, of New Castle, passed away peacefully at her home on November 20, 2017.
She was born on June 23, 1942 in Worcester, MA, a daughter of the late Ronald Peters Sr. and Helene (Laughlin) Peters.
Karen graduated from Burris High School in Muncie. She attended DePauw University and received her undergraduate and master's degrees from Ball State University. She received her Law degree from The Indiana University Robert H. McKinney School of Law, in Indianapolis. Karen was the founding director of the North Campus Alternative School, and served as a private counselor for Comprehensive Mental Health at the Henry County Hospital. She was for many years the Director of Special Education for Henry County School Corporation.
Tall and beautiful, Karen loved a lot. She loved and supported her family, and spent many enjoyable times with them. She loved her dogs, Lint and Puff. She loved to travel. She loved to garden. She loved the beach. She loved to read. She loved language and words. She gave constantly to her community, to charity, and to her many friends.
Those left to cherish her memory include her two loving children, Brad (wife: Danielle) Sry of Stamford, CT and Kelly (husband: James) Day of New Castle, IN; grandchildren, Ann Dee (husband: Jason) Sutton of Pacific Palisades, CA, Dalton Sry of New York, NY, David Esses of Yonkers, NY, and Jayda Day of New Castle, IN (to whom she was always Gam); her brother, Ron (wife: Glenda) Peters Jr. of Norman, OK; nephew, John Peters (partner: Jonathan Rucks) of Washington, D.C.; niece, Julie (husband: Taron) McKowen of Tulsa, OK; great-nephew, Wilson McKowen and a great-niece, Margaret McKowen.
Along with her parents, she was preceded in death by her youngest son, Curtis Marcum in 2007.
Friends may call at Karen's home, 513 Elliot Acres Dr. Muncie, IN 47302, from 11:00 am – 3:00 pm on Saturday, November 25, 2017.
In lieu of flowers, memorial contributions may be offered to the Henry County Community Foundation for the Curtis Marcum Memorial Endowment Fund. www.henrycountycf.org.
You may leave the family a personal condolence at www.sprolesfamilycares.com.
The Sproles family and staff are honored to serve the family of Karen Marcum.