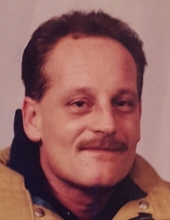 Kent A. Keith, 58, of New Castle Indiana passed away at home, after an extended illness, on October 11, 2019. Kent was born in New Castle, Indiana on February 14, 1961 to the late Jack E. Keith and Billie "Gay" (Frost) Keith.
A lifetime resident of New Castle, Kent graduated from New Castle Chrysler High School in 1979 where he excelled in football and track.
Kent retired from the New Castle Fire dept. after 26 years of service in 2015. He was also employed at the Ameriana Bank for 23 years. Kent was active in many functions within the Fire Dept. including Shop with a Firemen.
Kent married the love of his life Krista Davis-Keith on October 7, 1990, where they enjoyed 29 together.
Kent was an avid sports fan of all genres. His absolute favorites were the Trojans, IU, the Indianapolis Colts, and the St. Louis Cardinals. Kent frequently enjoyed accompanying his brothers and Father to Cardinal games at Busch Stadium in St. Louis. As a child, Kent played Babe Ruth Little League, coached by his Father, Jack Keith and uncle, Bud Frost. Kent also coached his daughters Babe Ruth soft ball team, as well as the Policeman/Fireman & soft ball league.
Kent was a dedicated fan of the band Aerosmith; having seen over 40 live concerts in his lifetime. Many which his oldest Kent also co-owned and operated the restaurant The Steaming Ladle alongside his wife and family friends Brenda and Brent Grider
Kent's greatest love was his family and one of his longest dreams came true with the birth of his grandson, Grayson. Left to carry on his legacy are his wife, Krista L. Davis-Keith; his two daughters, Audrey L. Keith, Sarah J. Keith (Fiance, Robert Rhea III); his grandson, Grayson Jack Keith; his Mother, Billie "Gay" (Frost) Keith; his brother Kevin D. Keith (Kent Smith). He is also survived by his aunts, Janet Lee McKechnie Robinson; Knoxie (Crabtree) Frost, Evelyn Keith, Leora Keith and several close cousins. He will also be remembered by his in-laws, Lisa (husband, Johnnie) Huddleston; and Sandra Davis. He had 15 nieces and nephews, and 12 great nieces and nephews. We would also like to mention family friends, Marietta Hicks; KJ Sorrell; Debbie Brunck; Brenda Grider; Jenny Brewer; Jack Thurman Jr.; Fred Thurman. He was preceded in death by his father the late Jack E. Keith and his brother Barry G. Keith.
Please join our family and Macer-Hall as we celebrate Kent wonderful life on Thursday, October 17, 2019 at First Baptist Church. Calling is 11am-2pm with funeral service to follow at 2pm. Minister Sam Frost will be officiating, with burial services to follow at South Mound Cemetery. Donations can be made to "The Jack Keith Memorial Athletic Scholarship" which Kent was so proud of. Envelopes will be provided at service.
Online condolences can be made at www.macerhall.com  Arrangements are being handled by Macer Hall Funeral Home and Cremation Service. Macer Hall funeral directors are honored to serve the family of Kent Keith