Kiwanis Club Shoe Program Sustained through Choose Henry Grant
By: Amber Estelle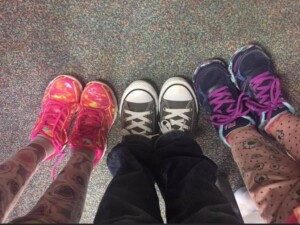 With a local poverty rate among children of 16.4%, Henry County schools see many students with a wide range of physical needs. One issue of concern is the need for students to have new shoes that fit. The Kiwanis Club of New Castle has been working to address this through their Shoe Program.
"There is a serious need for this in Henry County. Lots of kids have shoes that are much too big or really worn out," explained member Irene Hudelson. She went on to share a story from one of her experiences with this program, "One year there was a kid around 9 years old who walked with his legs bowed. He had been wearing his dad's shoes that were passed down from kid to kid in their family. They were held together by tape. Once he got new shoes, he started walking better. His shoes were causing him to walk like that."
For the last five years, the Kiwanis Club has raised funds to help provide shoes for children in several Henry County schools. Partnering with Shoe Sensation and local elementary schools, they supply shoes and socks to hundreds of students each year.
Nurses, principals, and teachers choose students who need new shoes and send paperwork home with them to receive permission for the child to participate in the program. From there, Shoe Sensation goes into the school to measure feet and set a date to start distribution, and a Kiwanis Club member goes along to give out socks with the shoes.
One unique and empowering aspect of this program is the chance to choose. Once distribution begins, Shoe Sensation takes in 3-4 pairs of shoes for each student to pick from. This way, they have a little bit of control over their situation. Irene describes this as a "real morale booster for them. Not only do they need the shoes, but having new shoes that they helped pick out gives them improved self-esteem!"
Due to Covid-19, Kiwanis Club was unable to carry out any of their usual fundraisers. They weren't sure if they'd be able to continue the program without some assistance. So, they applied for a grant through the Foundation.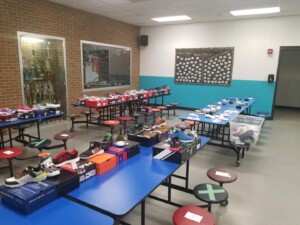 The treasurer of Kiwanis Club, Jon McCutchen, expressed their gratitude, "This grant allowed us to have the funds to provide shoes and socks to Henry County students. We are so thankful and have already started putting it to good use! We will provide socks and shoes to around 400 students throughout Henry County."
This year's distribution started in February. They have been to 11 schools and given out 302 pairs of shoes and shocks in Henry County. They plan to go to some schools again this coming fall. They're seeing the positive impact this program is having on students. Jon shared, "Their faces are full of excitement as they walk away with their new shoes.
Your impact through the Choose Henry Flex Fund allows the Foundation Board of Directors to be responsive to local needs—including future needs that cannot be anticipated at the time of your gift.
How does it work?          
You can establish your named fund through the Choose Henry Flex Fund as a way to create a legacy or to honor the memory of a loved one. 
Establish your named fund with a minimum of $5,000 or give a donation of any size to support grantmaking from the Choose Henry Flex Fund.
And because you do not set any restrictions, the earnings are used to meet the community's needs through grants to nonprofit organizations addressing the needs in our community.
Gifts are invested and stewarded to provide an annual scholarship.