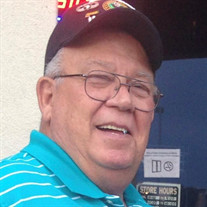 Larry Michael White, 74, of New Castle passed away Saturday, March 17, 2018 at his home, following a brief illness. He was born August 13, 1943 in New Castle. He was a son of the late Vaughn Gerald White and Thelma (Lovelace) White Yocom.
Mike served on the New Castle Police Department, and was the first EMT, (along with Sonny Dick) to serve on the New Castle First Aid Unit. An entrepreneur, Mike had owned and operated White's Sheet Metal, Trojan Plastics, State Plastics, and presently owned Safegard Carriers and S & M Limo Service. He had also worked at a Transport Officer with the Henry County Sheriff's Department, and had worked for Indiana Erectors. He had served as a Deputy Coroner for several years.
Mike enjoyed spending time with his family, classic cars, horses, camping, and mowing his lawn. He was a member of the New Castle Elks Lodge.
He leaves to cherish his memory, his wife, Sharon E. White of New Castle, daughters, Misty (Hank) Cecil of New Castle, Balinda "Mickey" (Tim) VanHook of Sulphur Springs, and Melissa White (Bryan Deck) of New Castle, Michele Fry of Noblesville, and Cathryn Spencer of Kokomo; grandchildren, Michael (Glenda) Cecil of New Castle, Brandon "Matt" (Cierra) Cecil of Straughn, Jamie Hall (Rob Carnahan) of Auburn, Tori Hall of Muncie, Breanna (Daniel) Marshall of New Castle, Tommy VanHook (Jessica Spong) of Connersville, and Craig White of New Castle; two great grandchildren, Mason Thomas and Clayton Cecil; his sister, Rebecca Smith of Stockton, KS, his brother, Lloyd Yocom Jr. of Tucson, AZ; an aunt, Ina Opal Raines of New Castle; several nieces and nephews and his favorite dog daughter, Maggie.
In addition to his parents, he was preceded in death by his wife, Brenda White; sister, Vicki Ruth Everhart, and a brother, Vaughn "Sonny" White.
Services will be at 11:00 a.m. Thursday, March 22, 2018 at Hinsey-Brown Funeral Service in New Castle with Rev. Bill Palmer officiating. Burial will follow in South Mound Cemetery, West Lawn Addition. Visitation will be from 4-8 p.m., Wednesday, March 21, 2018 at the funeral home. Memorial contributions may be given to the Henry County Cancer Society, c/o HCCF, 700 S. Memorial Dr., New Castle, IN 47362. You may share a memory or condolence of Mike at www.hinsey-brown.com.