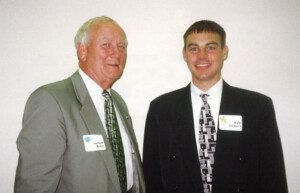 Lilly Endowment Community Scholarship Recipient Makes an Impact
By: Rachel Snavely
Kyle Siewert, M.D., shares his experiences in high school, playing basketball, and growing up in a close-knit community. He was born and raised in northern Henry County and attended Blue River Valley High School. "I have always felt a strong connection to my community. This was solidified and never more apparent than when playing basketball at BRV. Our small community rallied behind us and packed gyms to support us during those years. It was such a fun time for my family and me." Siewert explains the great experiences he was able to have while attending Blue River. "There were about 60 students in my class; we all knew one another. Teachers cared about our success and did everything they could to help us reach our goals. I was involved in athletics and really enjoyed my experiences. We had a lot of success in basketball and made lots of great memories." Siewert excelled athletically and academically as he was awarded the Lilly Endowment Community Scholarship in 1999.
Students awarded the Lilly Endowment Community Scholarship receive funding for full tuition, required fees, and an allocation for required books and equipment for four years of undergraduate study in any Indiana public or private university. The Lilly Endowment believes that education at all levels is important to the personal, civic, and economic well-being of Indiana's residents and communities. This program aims to encourage many of Indiana's most talented students to attend one of the state's higher education institutions and, ultimately, pursue careers in Indiana.
Siewert states, "winning the Lilly Endowment scholarship was a tremendous honor. There were many other deserving candidates. I was pretty determined that I wanted to pursue a career in medicine, and I always knew orthopedic surgery and sports medicine was my passion. Earning the scholarship was a great relief to my family and me, as it helped ease the burden of college tuition. But it also set an expectation for me that I had people counting on me to succeed. In some ways, I think it helped me gain confidence that I could go on and achieve my goals."
 After graduating from Purdue University, Siewert went on to Indiana University School of Medicine. Siewert completed his Orthopedic Surgery Residency and lived in Springfield, IL, for 5 years. After a couple of months of gaining additional training in Colorado, he moved back to Indiana in 2012. Since then, he has worked as an Orthopedic Surgeon at Henry Community Health. 
Siewert shares a few reasons he decided to move back to Henry County, "I have always felt that being happy in life is my main goal and desire. Happiness can come in many forms, but knowing that I have my family and my health is the most important thing. Additionally, the relationship I have with Jesus Christ is central to my happiness, and it doesn't matter where I live for that. Although being able to live in Henry County and raise my family here provides everything that is important to me. It's great being close to my parents and my wife's parents so they can be part of our children's lives."
Along with his family involvement, he also serves on the Henry County Community Foundation Board of Directors, the Henry County Hospital Foundation Board, and the New Castle Little League Board of Directors. Siewert said coaching is something he has enjoyed through Little League Baseball and Youth Basketball. "I want to be a good example for the young people in our community so they can feel empowered to go out and achieve their goals. It has been great getting to know more and more people in our community through these connections and as my kids get more involved in their activities."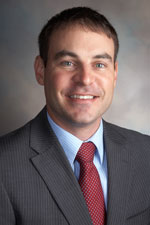 Siewert has served on the Henry County Community Foundation Board of Directors for 3 years. He shares the honor of serving the community with HCCF, "It has been a privilege, and I'm looking forward to strengthening my relationship with HCCF throughout my life here as a resident of Henry County." 
The Lilly Endowment Community Scholarship enables students to achieve their goals.  Through providing for the financial needs of the students awarded this tremendous honor, The Lilly Endowment Community Scholarship paves the way for students like Kyle Seiwert to pursue their plans for the future and continue serving their community. The Henry County Community Foundation is proud to partner with the Lilly Foundation in presenting this to deserving students each year. It is a privilege to witness former Lilly Scholars thrive in their careers and make a difference in Henry County!