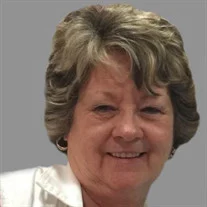 Linda R. (Edwards) True, 71, a resident of rural New Castle, gained her wings and went home to meet Jesus on November 8, 2023, after injuries sustained in an automobile accident. She was born in Wayne County, Kentucky on November 26, 1951 to Fred and Maxine (Bertram) Edwards.
Linda's family relocated to New Castle where she met the love of her life, Maurice True. They shared a wonderful 54 years of marriage together, loving every minute of each other and building their family. Family was the most important thing to Linda.
Linda graduated from Walter P. Chrysler High School in 1969. Shortly after, she married Maurice and moved to El Paso, Texas where he was stationed in the U.S. Army. After Maurice completed his service, they resided in rural New Castle.
Linda managed the JoAnn Fabrics store for many years until its closure and then decided to further her education by receiving her CNA and QMA. She retired from The Waters of New Castle. Linda enjoyed sewing, cooking, camping with family and friends, attending car shows, supporting Maurice in his tractor pulls and being with her kids and grandkids.
She was a member of Mt. Zion Wesleyan Church.
She leaves a family who will miss her greatly. Linda was a dedicated wife, mother and grandmother.
She leaves to cherish her loving husband, Maurice, her children, Donnie (Melissa) True, Vickie McIntosh(Steve Houchins) and Kellie (Richard) Riggs. Two grandchildren that she adored more than anything, Alyssa Semler and Garrett Harding, and her faithful furry companion, Sid, all of rural New Castle; her mom, Maxine Edwards of New Castle, her sister and best friend, Judy Coffey of Galveston, brother, Bill (Gail) Edwards of New Castle and a sister-in-law, Carolyn True of Cambridge City; many nieces and nephews that she loved as her own.
In addition to her father, Fred Edwards, she was preceded in death by three brothers in law, Phil Cherry, Ronnie Coffey and Ronnie True, and a sister-in-law, Phyllis Cherry.
Services will be at 4:00 p.m., Tuesday, November 14, 2023 at Hinsey-Brown Funeral Service with Pastor Steve Arnett officiating. Visitation will be from 2-4 p.m., Tuesday prior to the service at the funeral home. Burial will follow in Mooreland Cemetery. In lieu of flowers, donations may be given to the Henry County Community Foundation, Alzheimer's Fund, in memory of Linda's late father, Fred Edwards. You may share a memory or condolence of Linda at www.hinsey-brown.com.
To send flowers or a memorial gift to the family of Linda R. (Edwards) True please visit our Sympathy Store.