Lives of Former 4-H Members Memorialized Through the Ongoing Gift of Scholarship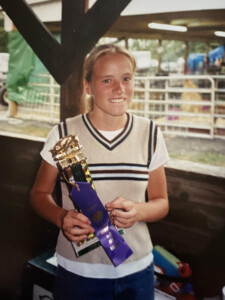 By Amber Estelle
Jessica Hale was preparing to participate in the swine show at the 4-H fair. A 10-year member of 4-H, she loved being involved in the community that is provided. Though she was a freshman in college at that time, she was still looking forward to her final year of participating in the program.
The night before her turn to show her pig, she was involved in a car accident that claimed her life.
As the 4-H fair continued without her, her two younger brothers stepped in to show her pig.
Then, the time came for the pig to go to auction. At the auction, Jessica's close-knit 4-H community came together. "Everyone was donating money. It went over $10,000. That's when we decided that we wanted the main qualification for the scholarship recipient to be a 10-year membership in 4-H," shared Julie Hale, Jessica's mom.
Moved by the support and love of the 4-H community, the Hales chose to start a scholarship fund in Jessica's memory. Through the years since it began being offered, Julie has noticed that many of the same names of the families who were there for them and gave to the fund are applying for Jessica's scholarship. She described, "It's always interesting to read their scholarships and see what their goals are. We feel honored that her scholarship is benefiting people that are the same age she was."
Since the scholarship was established, the Hale family has seen it doing good things. "We appreciate recipients sending thank you cards. We know it's helping some get through college. Knowing that it helps others pursue their dreams means a lot to us," expressed Julie.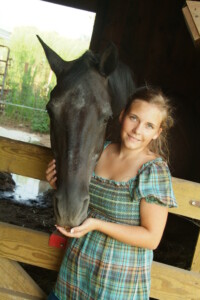 Another lover of animals, Jessica Wantz, completed many 4-H projects over her 10 years as a member. She was involved with swine, dogs, small pets, vet science, and of course, horse and pony. Her mom, Susie Wantz, said, "She loved all animals, but she was especially crazy about horses. Animals sensed her quiet demeanor and were always at ease with her as if she could communicate with them."
Jessica didn't spend all of her time at 4-H. She was also involved with the youth group, worship band, marching band, and drumline. Though she started her education at New Castle, she went on to study at the Academy, where she was also involved with theater. Jessica found the time to volunteer at two different veterinarian offices for internships and even mentored at-risk middle school girls.
Jessica's life was cut much too short in a sledding accident during her Christmas break at home. Her family chose to carry on her legacy through a scholarship fund at the Henry County Community Foundation. Susie shared, "Jessica always loved science. We wanted to provide for future and current 4-H members who shared a passion for science to help complete their educational goals. We hope to help support future 4-H members to follow their dreams in exploring the world of science."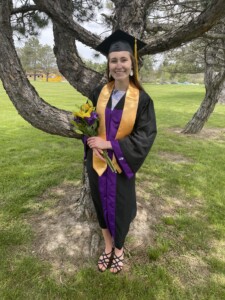 One student who has had the honor of receiving both the Jessica Hale Memorial-Henry Co. 4-H Scholarship and the Jessica Lynn Wantz Memorial 4-H Scholarship is able to pursue her dreams through the aid provided by these funds.
Elizabeth LaMar comes from a family of long-time 4-H members. She herself spent 10 years in the program, was a co-fair queen in high school, and even participated in an internship with the local 4-H extension office. Through that internship, she was able to help plan the fair and work in youth outreach, as well as revamp their online presence.
Elizabeth graduated from Taylor University, where she studied Public Health with a minor in Orphans and Vulnerable Children. She hopes to continue her education through a dental hygiene program, but her passions go beyond dental health and education. Elizabeth dreams of one day operating a farm that helps teens in the foster care system. She expressed, "I have a goal to do my day job and then come home and connect kids to Christ through creation. It would provide an opportunity for foster teens to grow and learn through routine farm work and animal therapy."
This passion ties in well with Elizabeth's experience in 4-H, and she has been able to pursue her goals through the assistance of these scholarships. She shared, "It has made Taylor University much more affordable for us. It has really decreased the financial burden for my family. It helps tremendously!" The memories of Jessica Hale and Jessica Wantz are kept alive through their funds by providing opportunities for students like Elizabeth.