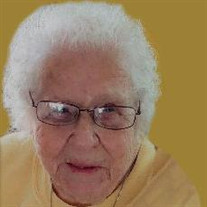 Lola Mae Getchell, 87, of New Castle went to be with Jesus on Saturday, October 13, 2018 surrounded by her loving family. She was born October 16, 1930 in Fannin, Texas.
She was an active member of New Castle First Church of Nazarene where she taught Sunday school and was a member of the JOY Club. She also received the Distinguished Service award and was voted "mother of the year". Lola was a longtime member of the Foster Grandparent Program and Head Start, where she received numerous awards and certificates. She was lovingly known as "grandma" to many.
She is survived by her children: Mary Maxwell, Brenda (Dan) Lacy, Donald "Bruce" Akers and Kim (Steve) Reeves; sisters: Mary Smith and Judy (Bob) Walker; grandchildren, Paul, Bruce and Wendy Mann (John Mettert), Cindy (Joe) Simpkins, Mechelle Lacy, Tim Lacy, Donnie Baney (Terry Goforth), Amy (Charles) Koons and Joshua (Jennifer) Reeves; Lola also has many great-grandchildren and great-great grandchildren who were the sunshine of her heart along with numerous nieces and nephews.
She was preceded in death by her parents, Russell and Lola Shields; her husband, Donald W. Getchell, sister, Sherrie Mattix, brothers, Jack Claborn and Chester "Butch" Claborn Jr., grandchildren, Charles David Lacy and Nancy Jane Akers, a special nephew, Barry A. Smith.
A celebration of life will be at 11:00 A.M. on Friday, October 19, 2018 at First Church of the Nazarene in New Castle with Pastors Danny Goddard and James Nichols officiating. Burial will follow in Green Hills Memory Gardens. Visitation will be from 4 to 8 P.M. Thursday, October 18th at the Hinsey-Brown Funeral Service in New Castle. Memorial contributions may be sent to Henry County Community Foundation, Cancer Society, PO Box 6006, New Castle, IN 47362 or for Head Start c/o Kim Reeves through Hinsey-Brown Funeral Service, 3406 S. Memorial Dr., New Castle, IN 47362. You may express condolences or share a memory of Lola at www.hinsey-brown.com.