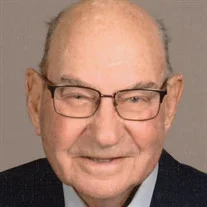 Lyle Ray Koger, of rural New Castle passed on Thursday, February 9, 2023. He was born on October 19, 1930 in New Castle to the late Riley and Hattie (Kelly) Koger.
He graduated from Mt. Summit High School in 1949 and was president of his class. Lyle was a veteran of the U.S. Army, serving 18 months in Germany during the Korean War. Lyle was a lifelong farmer of both grain and dairy. He loved his family dearly and enjoyed spending time with them. Lyle and Janet loved to spend time in Ft. Myers Beach, FL. He was on the Board of Farmers Elevator of Oakville for 21 years and served as the president for 11 years. Lyle was a member of Farm Bureau and served as a board member on the New Castle, Henry County First Aid, serving for 10 years. He was a birth right member of Sugar Grove United Methodist Church until it closed in 2016. Lyle then attended First United Methodist Church of New Castle.
Lyle is survived by his children, Leesa A. (Jim) Meyers and Kent A. (Kristi) Koger both of New Castle; grandchildren, Kory (Priscilla) Koger, Kade (Jade) Koger, Kole (Jessica) Koger, Kiel Sexton and Kelsey Meyers; great grandchildren; Delilah J. Sexton, Kollin, Kannon, Kolt, Knox, Kyler, Kalem and Kate Koger; brother, Karl K. Koger of New York.
In addition to his parents, he was preceded in death by his wife of 59 years, Janet Koger, whom he married on June 17, 1956 and a his step-mother, Lucy Koger.
Services will be held at 10:00am Wednesday, February 15, 2023 at the First united Methodist Church of New Castle with Pastor Michelle White officiating. Burial will follow in Mt. Summit Cemetery. Visitation will be from 3:00pm – 8:00pm Tuesday, February 14, 2023 at Hinsey-Brown Funeral Service in New Castle. Memorial contributions may be given to the Janet Koger Elementary Education Fund, C/O Henry County Community Foundation or the First United Methodist Church of New Castle with envelopes available at the funeral home. You may express condolences or share a memory of Lyle at www.hinsey-brown.com.
To send flowers or a memorial gift to the family of Lyle Ray Koger please visit our Sympathy Store.