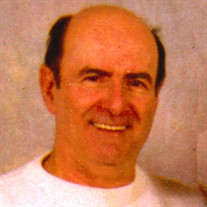 Lynn Nelson Richey, 79, of New Castle passed away Sunday, July 8, 2018 at The Waters of New Castle. He was born October 10, 1938 in New Castle, a son of the late Robert Hume and Letha Alice Richey.
Lynn was 1956 graduate of New Castle High School and entered the U.S. Army where he served three years prior to an honorable discharge. He retired from Chrysler Corporation following 38 years of service. Lynn was a 55 year member of the New Castle Masonic Lodge #91 and reached the level of Master Mason. He was a member of the New Castle Evening Optimist and was very involved with youth sports. Lynn was umpire and coach for Little league baseball, football and basketball. Lynn was also a member of the Grand Avenue Baptist Church. He was an amazing husband to, Josie and a wonderful father to his boys, Mark, Christopher, Joseph and Benjamin. Lynn's favorite vacation spot was Disney World with his family.
Lynn leaves to cherish his memory his wife of 58 years, Josephine "Josie" Richey of New Castle; children, Mark (Marianne) Richey of Kennard, Christopher (Lisa) Richey of New Castle, Joseph (Susan) Richey of Orlando, FL, Benjamin (Kara) Richey of New Castle; grandchildren, Jason (Julie) Richey of St. Louis, MO, Joshua (Dana) Richey of Palestine, IL, Justin (Erica) Richey of New Castle, Amanda (Todd) Lunsford of New Castle, Emily Richey of Orlando, FL, Sean Thomas (Laura) Richey of Orlando, FL, Robert Chase Richey add (fiancé Lacey Bradley), Shelby Hope Richey, Hanna Faith Richey all of New Castle; great grandson, Ayden Lynn Fleetwood, Ally, Taylor, Morgan, Brianna, Rachel, Ashton, Thomas, Finnegan and Keegan Rickey.
In addition to his parents, Lynn is preceded in death by a great granddaughter, Megan Richey.
Services will be at 1:00p.m. Wednesday, July 11, 2018 at Hinsey-Brown Funeral Service in New Castle with Rev. Tony Piper officiating. Burial will follow at South Mound Cemetery West Lawn Addition with military rites conducted by the US Army and the local American Legion/VFW. Visitation will be Tuesday from 5-8p.m. at the funeral home with Masonic rites conducted by New Castle Lodge #91 at 7:00p.m. Memorial contributions may be set to the New Castle Babe Ruth League Scholarship Fund, c/o Henry County Community Foundation, PO Box 6006 New Castle, IN 47362. You may express condolences or share a memory of Lynn at www.hinsey-brown.com.