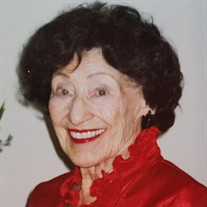 NEW CASTLE – M. Jeanne (Long) Keesling, 91, passed away on Tuesday, July 3 in New Castle. She was born on June 6, 1927 to Albert and Mabel Long in New Castle. Jeanne graduated from New Castle High School in 1945 and attended Wittenberg University. She married Thomas Waggoner, also from New Castle, who became a military pilot and advanced to become a captain. Together they had a son, Tom, but shortly after, Thomas was tragically killed in plane accident, and Jeanne moved back to New Castle with her young son. Some years later, Jeanne's sister, Susan, encouraged Jeanne to chaperone a school dance at the home of sixth-grade teacher, Wendell Keesling. With his students as matchmakers, Wendell and Jeanne fell in love and were married in 1959. August 15, 2018 would have been their 59th wedding anniversary. Jeanne was preceded in death by her parents.
Jeanne is survived by her devoted husband, R. Wendell Keesling of New Castle, son Thomas (Tom) H. Keesling of Raleigh, North Carolina, son Chad A. Keesling (wife Amy) of Dearborn, Michigan, granddaughter Arielle Keesling, Hinckley, Ohio, granddaughter Meredith R. Keesling, Kansas City, Missouri, a great-grandson, Thomas Jefferson Wheeler, Hinckley, Ohio, and a sister, Susan (Long) Rhoades (Gene, deceased), of New Castle.
Jeanne was a homemaker and a dedicated wife to husband and mother to her sons. Her goals were for their success. For a few years, she was a pre-kindergarten teacher at the St. James Episcopal church. She had a magical way of working with children and fulfilling their needs. She was an active 50-year member of PEO, raising money for scholarships for young women to attend college. Jeanne was also a talented gardener. She loved working with flowers, and she enjoyed watching the birds at her birdfeeders in her backyard.
A memorial service will be held on July 28, 2018 at Hinsey-Brown funeral home in New Castle. Visitation with the family will be from 2 to 4 p.m., and the Memorial Service will be held at 4 p.m. Memorials may be sent to the Henry County Community Foundation, PO BOX 6006 New Castle, IN 47362. You may express condolences or share a memory of Jeanne at www.hinsey-brown.com.