Obituary for Margaret Ann Bowman
Margaret Ann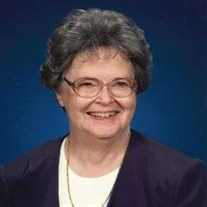 Bowman, 91, of New Castle, died on Thursday, June 16, 2022, at Stonebrooke Rehabilitation Center. She was born June 20, 1930, in Boone County, Indiana, a daughter of the late Minnis A. and Lenora Alice (Hand) Yates.
She married Bobby Bowman on September 4, 1949, and lived in New Castle since 1972. Margaret was a 1948 graduate of Zionsville High School and attended Indiana University, Miami of Ohio, and Franklin College.She had been an active member of New Castle First United Methodist Church, serving as president of The United Methodist Women and holding positions in District and Conference United Methodist Women.
While living near Whiteland, Indiana, she was active in Tri Kappa. Margaret served as President of the Henry County Hospital Auxiliary and Gift Shop Manager. She was a member and Past President of PEO Chapter CG.
She is survived by her husband, Bob; two children, Mark (Sarah) Bowman and Beth (Dave) Marschall; six grandchildren, Laurie Martin, Adam (Haley) Bowman, Emily Bowman, Melanie (Chris) Hufford, Joe (Erin) Bowman and Kevin Lee; 15 great-grandchildren, Sylvia Martin, Iris Martin, Alaina Bowman, Addy Bowman, Preston Bowman, Maggie Bowman, Macy Hufford, Carmen Hufford, McKenley Hufford, Colston Hufford, Nora Bowman, Violet Bowman, Graham Bowman, Kaden Lee, and Karsyn Lee; and son-in-law, Dennis Lee.
In addition to her parents, Margaret was preceded in death by a daughter, Carol (Bowman) Lee.
Services will be 11:00 a.m. Saturday, June 25, 2022, at Hinsey-Brown Funeral Service in New Castle with Rev. Doug Anderson officiating. Burial will follow in South Mound Cemetery in New Castle. Visitation will be from 9:30 a.m. Saturday until time of services at the funeral home. Memorial contributions may be given to Henry County Community Foundation, P.O. Box 6006, New Castle, IN 47362 or New Castle First United Methodist Church, 1324 Church Street, Box 544, New Castle, IN 47362. You may express condolences or share a memory of Margaret at www.hinsey-brown.com.
To send flowers or a memorial gift to the family of Margaret Ann Bowman please visit our Sympathy Store.