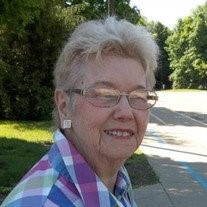 Marjorie R. Wilkinson, 88, former resident of Knightstown, passed away December 4, 2020 at The Wyndmoor of Castleton in Indianapolis. She was born February 11, 1932 in Morgan County near Mooresville, Indiana to Gale and Ercie (Smith) Rose.
Marjorie earned her Master's and Bachelor degrees from Ball State Teachers College after graduating from Mooresville High School in 1950.
She taught elementary school early in her career. Her first teaching position was in Hammond, Indiana. She was a teacher in Hancock County schools and served as school librarian at New Castle and Madison Heights schools before teaching at Knightstown. While teaching, she met and eventually married Thomas Wilkinson. They lived in Shirley for many years and had a son, Michael.
After many years of teaching, Marjorie became the library director at Knightstown Public Library, where she worked for over 27 years. During her tenure there, the basement of the library was finished to house the children's collection and the library received the property south of the library's lot, which eventually provided off-street parking and a drive-up drop box. She was instrumental in getting the library its first public Internet workstation. An avid mystery and suspense novel reader, she enjoyed interacting with library patrons and recommending authors and new titles. She wrote the Library Notes column in The Banner to announce new acquisitions and library programs. Marjorie assisted the research needs of Knightstown's citizens from students tasked with reports to write to retirees getting started on their genealogy. She worked with library board members and The Friends of the Library to maintain and enhance the library's role in the community. She oversaw the children's annual summer reading program throughout her career and often listened to participants' verbal reports of what they had read at the circulation desk. She worked with many dedicated librarians and library assistants over the years who helped the library fulfill its mission. Just prior to retiring, she and Tom moved to Knightstown.
In retirement, Marjorie and her family took road trips to nearby attractions and attended local cultural events. Over the years, they traveled to destinations around and outside the U.S. Before Marjorie started her family, she traveled to Europe with an academic group.
Marjorie was active in local sorority chapters, Shakespeare Club, Red Hats, and a local card club. She volunteered at the Hancock County Public Library in Greenfield.
Survivors include: a son, Michael Wilkinson of Indianapolis; nieces Sherry (Bob) Calero, Amy Gwinn, and Karla (Gene) Lipp; nephews William Sawyers, Dennis (Pam) Stearns, Bill Wilkinson, and Robert Wilkinson; three great-nieces; and three great-great nephews.
She was preceded in death by: husband, Thomas Wilkinson; parents, Gale and Ercie (Smith) Rose; a sister, E. Carolyn Stearns; in-laws, John Stearns, Ayne and Zella Wilkinson; brother and sister-in-laws, Gene and Virginia Wilkinson and Donald and Jane Wilkinson Gwinn; and a niece-in-law, Linda Pfafflin Sawyers.
Services will be at 11:00 AM Wednesday, December 9, 2020 at Hinsey-Brown Funeral Service, Knightstown Chapel with Richard Thayer officiating. Burial will follow in Glen Cove Cemetery. Visitation will be from 10:00 AM until time of service. Due to Covid-19 and the governor's mandate, face coverings will be required.
Memorial contributions may be made in lieu of flowers. Suggestions include the Knightstown Public Library, 5 E Main St, Knightstown, IN 46148, Historic Knightstown, 26 N. Washington St, Knightstown, IN 46148 or the Henry County Community Foundation, PO Box 6006, New Castle, IN 47362. Condolences and memories of Marjorie may be shared at www.hinsey-brown.com.