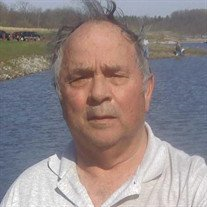 Michael L. Marsh, 75, of Markleville, passed away Wednesday, November 21, 2018 in Community Northview Rehabilitation Center in Anderson. He was born November 8, 1943 in New Castle, a son of the late Estill and Mable (Smith) Marsh.
Mike was a 1962 graduate of Walter P. Chrysler Memorial High School, where he played varsity basketball, football, and baseball. He went on to play on the farm team for the Mets for two seasons, playing in Georgia and Illinois respectively. He was inducted to the New Castle Athletic Departments Trojan Hall of Fame in 2014. His accomplishments are proudly displayed at the Indiana Basketball Hall of Fame and in the New Castle Fieldhouse.
An avid fisherman, he was a longtime fan of the Chicago Bears, and was known around the county for selling fruit. He retired from Guide Lamp in Anderson after many years of service.
He is survived by his brothers, Don (Lorraine) Marsh Sr. of New Castle, Phil Marsh of New Castle, and Larry "Rusty" Marsh of Mechanicsburg, a daughter, Debby McIntyre of Richmond; several nieces and nephews; also, his close friends and caregivers, John and Jean Duttlinger of Markleville.
In addition to his parents, he was preceded in death by his son, Michael Bradley Marsh, and a sister, Patsy Lou Ballard in 1987.
Visitation will be from 5-8 p.m., Monday, November 26, 2018 at Hinsey-Brown Funeral Service in New Castle. Services will be at 10:30 a.m., Tuesday, November 27, 2018 at the funeral home with Rev. Doug Wall officiating. Burial will follow in South Mound Cemetery, West Lawn Addition. Memorial contributions may be given to Babe Ruth, or New Castle Trojan Hall of Fame c/o Henry County Community Foundation, PO Box 6006, New Castle, IN 47362. You may share a memory or condolence at www.hinsey-brown.com.