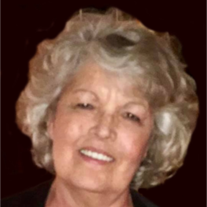 Mollie L. Bailey, 71, of Lewisville passed away Tuesday, January 21, 2020 at her residence. She was born March 29, 1948 in Pike County, Kentucky, the daughter of Bonnie Mullins and Bethel (Burke) Mullins-Bentley.
Mollie was a 7 time cancer survivor; she was a fighter! She had a strong faith, was a member of Grand Avenue Baptist Church and a 20 year member of Bible Study Fellowship. In her earlier years, she attended cosmetology school. Mollie was a homemaker and enjoyed being with family, cooking for her family and babysitting. She enjoyed gardening, canning, quilting, sewing and fishing. She had a sweet tooth and was a donut connoisseur. She loved to laugh, had a huge heart and would help anyone in need.
She is survived by her husband of 41 years, Ron Bailey of Lewisville; children, Ron Bailey II of Arizona, Angie (Marty) Hicks of Knightstown, Becky (Tony) Hughes of Greensboro, Amy Bethel Bailey of Washburn, WI; grandchildren, Brittani Bailey, Kyle Bailey, Kaleb Bailey, Addison Hicks, Payton Hicks, Graham Hicks, and Abigale Bailey; five great grandchildren; sisters, Gaye Webb and Lillie Johnson; and several nieces and nephews.
In addition to her parents, she was preceded in death by her great grandmother, Carrie Mullins; and a brother, Ronnie Mullins.
Services will be at 2:00 PM Friday, January 24, 2020 at Hinsey-Brown Funeral Service, Knightstown Chapel with Pastors Tony Piper and Ryan McCarty officiating. Burial will be in Glen Cove Cemetery. Visitation will be from 11 AM until time of service. Memorial contributions may be made to Bible Study Fellowship, 709 S Memorial Dr, New Castle, IN 47362 or Henry County Cancer Society, c/o Henry County Community Foundation, PO Box 6006, New Castle, IN 47362. Condolences and memories of Mollie may be shared at www.hinsey-brown.com.