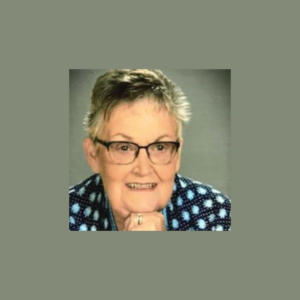 Nancy Jane Garrett Kellam passed peacefully surrounded by her family on September 17, 2023 after an extended illness. Nancy was born on September 23, 1942, in Sulphur Springs, Indiana. She was the only daughter among five children born to her parents, P.B. "Doc" and Bula Mae Garrett.
On December 23, 1966, she married the love of her life, John L. Kellam. Together, they built a home and raised a family. Nancy and John had four children: Jane (Tim) Tollett, Missy Modesitt, John D. (Mary) Kellam, and Lora (Keith) Wilson.
Nancy held various jobs during her life, including working as an office manager at the Henry County Community Foundation and the Henry County Extension Office. She served as a teacher's aide at New Castle Community School Corp. She also worked as a broker-dealer clerk at the Secretary of State's office from 1968 to 1970. Her early career included a position at Citizens State Bank in New Castle, where she met John, her future husband. Nancy was known as a devoted mother to her four children and a cherished grandmother to her ten grandchildren. She was particularly fond of spending time with her family and enjoyed having them gathered at her home for Pizza King pizza. She was also delighted by her seven great-grandchildren.
Nancy and John were happily married for nearly 57 years. They enjoyed hosting an annual Labor Day weekend hog roast for family and friends. The couple also had a love for travel, especially to the Caribbean, and owned a home in Florida.
Nancy was actively involved in her community. She was a member of the New Lisbon Christian Church and participated in organizations such as the Order of the Eastern Star, the Saturday Club, and Psi Iota Xi.
The family would like to extend a heartfelt thank you to the wonderful caregivers of Suburban Hospice of Greenfield, especially Lee and Abby.
Funeral Services will be at 11:00 a.m., Thursday, September 21, 2023 at New Lisbon Christian Church with Pastor Mark Lomison officiating. Burial will follow in New Lisbon Cemetery. Visitation will be from 4-7 p.m., Wednesday, September 20, 2023 at Hinsey-Brown Funeral Service in New Castle. In lieu of flowers, memorial contributions may be given to the Kellam Family Fund, c/o Henry County Community Foundation, 700 S. Memorial Dr., New Castle, IN, or New Lisbon Christian Church, 6477 E. County Rd. 500 S, New Lisbon, IN, 47366. You may share condolences and memories of Nancy at www.hinsey-brown.com.