October 18-24th is National Estate Planning Awareness Week, and the Henry County Community Foundation wants to help you make the most of it! It's a powerful way to protect your loved ones and support the causes that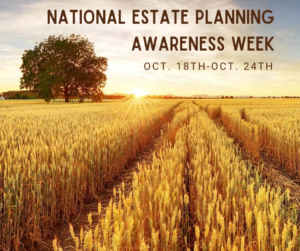 are close to your heart.
If you're wondering why you should be thinking about your will, we're here to debunk the most common myths about making estate plans:
It's too early for me to think about my will. We hope you won't need to use it for many years to come, but it is never too early to start planning ahead. No matter what your age, having a will can give you peace of mind that your wishes and loved ones are taken care of.
I wrote my will a couple of years ago so I'm set. Have you acquired property? Do you have children? Life changes fast, so it is recommended that you update your will at least every five years.
Estate planning is always complicated. We provide a free estate planning guide on our website to direct you. Additionally, you can call our office to discuss estate planning options.
If you have further questions about NEPAW, or if you want to learn more about how you can support the Henry County Community Foundation in your will, feel free to reach out.