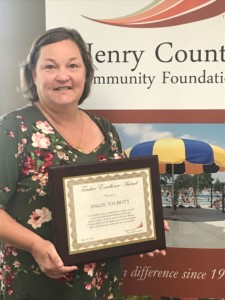 Angie Talbott, Health Science Education Instructor at New Castle Career Center, is the recipient of the 2020 Teacher Excellence Award.  Talbott was awarded a certificate of recognition on May 26, 2020 from the Henry County Community Foundation.
Talbott's nominator spoke highly of her outstanding commitment to her students that embodies the spirit of the award, saying "Angie is the definition of an excellent teacher.  She goes above and beyond for her students every single day."  Talbott prepares her students for the CNA exam, providing them with excellent clinical experience with Henry Community Health, as well as supporting them mentally and emotionally along the way.  She also enrolls her students in the Health Occupation Students of America, a club that specializes in helping students prepare for a career in healthcare.  In addition to this, Talbott serves as the National Technical Honor Society Coordinator, making sure that students at the Career Center get the recognition they deserve for all their hard work.
Talbott was also recognized for her strong commitment to her co-workers and peers.  As noted by her nominator, "Angie has a giving soul. She is constantly giving to her students, coworkers and everyone around her. I always see her helping our fellow co-workers with tasks that they need help completing, even if that means she has to work until 6 o'clock in the evening.  She would help anyone in any situation without question."
The Teacher Excellence Award is the highest honor the Foundation can bestow on an individual in education. The honor is designed to recognize teachers who have demonstrated an outstanding commitment to inspire students to reach for difficult and lofty goals.  Nominees must also have earned the respect of students, parents and peers through sustained effort, as well as contributed to the likelihood of enduring beneficial effects on the students with which they have worked.
Any current, full-time educator of a public school within Henry County was eligible for nomination and the winner was selected by judges who are or have been teachers outside the county. This year, four exceptional teachers were nominated for the award. This award is sponsored by an endowment at the Foundation.