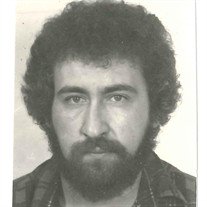 Oscar Brannon Howard III, 65, of New Castle passed away Friday, January 11, 2019 at his home. He was born October 24, 1953 in Los Angeles, CA to the late Oscar and Betty (Holt) Howard Jr.
A member of the Carpenters Millwright Union, he also worked on drilling rigs in Louisiana and at Hoosier Park in Anderson.
He is survived by his aunts and uncles, Larry and Anna Cox of New Castle, Alfred Holt of New Castle, Alvey (Carolyn) Holt of New Castle, Truman Holt of Troy, OH, Deltris Hunt of New Castle and Janice Gosser of Troy, OH; several nieces and nephews.
In addition to his parents, he is preceded in death by uncle, Ronnie Howard.
There will be no public services. Arrangements have been entrusted to Hinsey-Brown Funeral Service in New Castle. Memorial contributions may be sent to Henry County Community Foundation Cancer Society, P.O. Box 6006, New Castle, IN 47362 or Henry County Heart Society, PO Box 490, New Castle, IN 47362. You may express condolences or share a memory of Oscar at www.hinsey-brown.com.