By: Amber Estelle
Each New Year, we anticipate the experiences ahead of us. Through the dark and cold of winter, we often look forward to warm weather and sunshine. We become eager for playdates at the playground, family reunions at the parks, and all of the great outdoor activities available to us.
The year 2020 had something different in store. After months of uncertainty, fear, and distance, more than ever, we were all ready to get out, get moving, and safely see our loved ones. We started walking on trails together, having more picnics, and enjoying each other's presence in the open air.
But with Covid-19 also came many budget cuts. Several projects were paused or even cancelled. The Parks Department was not exempt from these discouraging experiences. Projects that were underway for two local parks would no longer be funded due to lockdown. So, Parks Board President, Patty Broyles, came to the Henry County Community Foundation to ask for help.
Patty expressed to (then) HCCF President, Beverly Matthews, "The possibility of finishing the plans at these parks would increase the recreational opportunities, provide for a safe environment, and most importantly, instill a sense of pride within the neighborhoods."
After hearing from Patty, Beverly knew just the right donors to contact. She shared, "I felt bad that they weren't going to be able to do the projects when everyone was outside more using these spaces. I reached out to two funders who I thought would like to see a project giving back to the community."
Beverly had already started a conversation with the Bowers family about their fund before the parks project had surfaced. Doug Bowers recalled, "We had talked to Beverly. We asked her to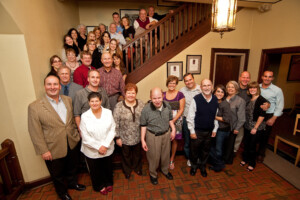 provide us with some ideas that would make sense for our fund. We hadn't done anything yet since establishing the fund. She came up with some cool ideas. This was all going on during the pandemic. There were so many things we could have done. There's no wrong answer, but I will say that we voted on a couple of options of where to contribute. Each of the seven people involved got to vote, and it was unanimous that we would fund this renovation."
Doug Bowers is the sixth of seven children whose parents raised their family in New Castle. All of the children grew up here and graduated from Walter P. Chrysler High School. Some of the children moved away after high school, but Lynn Bowers stayed and became a doctor here. He and his wife, Cassandra, initially started a fund through the Foundation in their names. After his passing, the family asked for contributions to the fund in his memory. Later, they continued that request when another of the siblings, Stuart, passed away.
Meanwhile, Carol and Maurie Goodwin had started a fund in honor of Carol's parents, George and Rilla Denton. Carol stated, "We always believed in the Foundation and think it's a wonderful thing. Both of my parents were citizens of the year and greatly involved in the community. Both of them had businesses downtown and were very active in Henry County. My mother was a real trailblazer for her generation. We wanted something that would give back to the community, and this fund really fit the bill for my parents."
When they learned about the parks needing funding, they found it to be the perfect way to use their fund, and they readily agreed to it.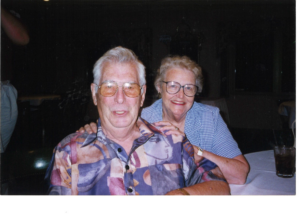 Carol expressed, "It's something the community benefits from and it helps in so many different ways. The parks are a health resource. They beautify. They give something for kids and adults to do. It's a win-win all the way around. My nephews used to play a lot of basketball at Osborne Park. When we found out that there was a need, we both said 'Yes, let's do that! Use whatever funds are available to help out.'"
Once both funders were on board with the project, Parks Director, Mike Bergum, sent them information about the scope of the project and Beverly kept them informed throughout the process of renovations. She shared, "Both of these funders lived here and cared about the community. I was thrilled that they wanted to do that and see something they were supporting in their hometown. It really helped the community at a time that people needed it the most."
The support from the George and Rilla Denton Memorial Fund and Dr. Lynn Bowers & Cassandra Bowers and Stuart & Joan Bowers Family Fund helped Osborne Park receive new basketball goals, a resurfaced court, new trash cans, and refurbished picnic tables. Hospital Heights received new basketball goals, a resealed court, and a new trash can as well.
Both families have been pleased with the project. Doug said, "The Parks commission had been looking to resurface the basketball courts. We elected to help with that. Everyone was happy with it. We saw the pictures of the park. There was one colorful artist. It was very neat."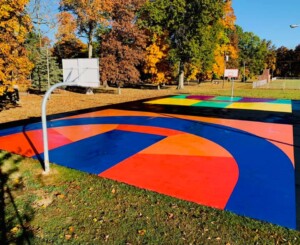 And Carol summed up their feelings in stating, "We're just thrilled to death that the money was used for something so worthwhile and that we were contacted." Through all of the bleak moments and struggles of 2020, our community was able to keep moving forward to improve both Osborne and Hospital Heights Parks because of these generous funds. Now, they're each bright spots in Henry County that people will enjoy for years to come.
Establishing a Donor Advised Fund provides a personal account to use for your charitable giving.
How does it work?          
You select a name for your fund.
Establish your Donor Advised fund with a minimum of $25,000.
Don't worry about identifying your charitable beneficiary immediately, instead, recommend grants when you decide on an eligible nonprofit.
Gifts are invested and stewarded to provide annual grant dollars for your charitable giving.