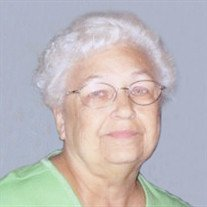 Phyllis R. Austin, 83, of New Castle, passed away early on the morning of Thursday, September 13, 2018 at Henry Community Health following a brief illness.
She was born January 11, 1935 in New Castle, a daughter of the late Dillard and Trilby (Ingram) Reno.
Phyllis was a 1953 graduate of New Castle High School. She married the love of her life, Melvin Austin on July 27, 1957. For many years, Phyllis enjoyed working for Meek Florist and Four Seasons Flower Shop. She was a NASCAR Fan, enjoyed bowling, roller skating, and traveling, especially visiting Las Vegas, NV and playing slot machines. Her greatest love was her family.
Those left to cherish Phyllis's memory include her husband of 61 years, Melvin R. Austin; two daughters, Jennifer Austin and Tina Austin and a sister, Rose Catron all of New Castle; a nephew, Brian (Brenda) Catron of New Port Richey, FL; a niece, Cindy Catron of New Castle; cousins, Julie (Mike) Jones, Gene (Sherri) Ingram, Norma Jean Reuter, Jack (Cathy) Reno, and Katie Wallen all of New Castle; sisters and brother-in-law, Pauline Dalton, Glen (Debbie) Denny, and June Blessinger all of New Castle, Phyllis Denny of Anderson, Maryellen Denny and Cindy Senay both of Sarasota, FL and Diane Means of Indianapolis along with many nieces, nephews and great-nieces and nephews.
Phyllis was preceded in death by her parents, an infant brother, Dallas Reno; a brother-in-law, Olin Catron; a nephew, Brad Catron and several brothers and sisters-in-law.
Funeral services will be held at 1:00 pm Monday, September 17, 2018 at Sproles Family Funeral Home. Burial will follow in South Mound Cemetery.
Friends may call from 11:00 am until the time of service Monday at the funeral home.
Memorial contributions may be offered to the Henry County Community Foundation for the Chief Brad Catron Memorial Fund for youth sports. www.henrycountycf.org.
You may send the family a personal condolence at www.sprolesfamilycares.com.
The Sproles family and staff are honored to serve the family of Phyllis R. Austin.