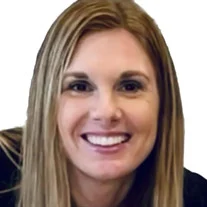 Rebecca Ryan, 39 of Middletown, passed away Sunday, June 4, 2023. She was born on June 21, 1983 to Robert "Bob" and Beth (Weidner) Hobbs.
Rebecca was a 2001 graduate of Shenandoah High School and studied at Ball State University where she obtained both a Bachelor's and Master's degree in speech pathology. Rebecca was employed with Ascension Health as a speech pathologist, as well as serving many other healthcare facilities throughout the community. Her work family loved her immensely. She was an advocate for all of her patients.
Rebecca enjoyed traveling. On trips she always encouraged everyone to step beyond their comfort zone. Her heart was always wide open for everyone, and she made people around her better. Becca was a champion for her children and always pushed them to do their best. She was driven by her values and always stood up for what is right.
Rebecca is survived by her loving husband of 16 years, Mathew Ryan; son, Colin Ryan; daughter, Elizabeth (Libby) Ryan; parents, Bob and Beth Hobbs; sister, Mary Hobbs (fiancé: Luke); mother-in-law, Peggy (Mike) Miller; father-in-law, Steve Ryan; brothers-in-law, Scott, Michael, Steven and Jon; sisters-in-law, Mary and Miranda.
A Celebration of Life will be held at 3:00 PM on Friday, June 9, 2023 at Belgian Horse Winery in Middletown with Kendra Harter officiating. Arrangements have been entrusted to Ballard and Sons Funeral Home in Middletown.
In lieu of flowers memorial contributions may be made to the Henry County Community Foundation, in honor of Rebecca Ryan at 700 South Memorial Drive, New Castle, IN 47362.
You may express condolences or share a memory of Rebecca at www.ballardandsons.com
To send flowers or a memorial gift to the family of Rebecca Jane Ryan please visit our Sympathy Store.