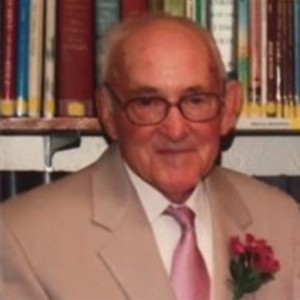 Richard Henry Leitch Jr., 96, of New Castle, passed away on the morning of Tuesday, January 17, 2017, at Stonebrooke Rehabilitation Center.
He was born September 6, 1920 in Muncie, Indiana, a son of the late Richard Henry Leitch Sr., and Cecil Fern (Benbow) Leitch.
Dick was a 1938 graduate of Muncie Central High School. He joined the U.S. Navy along with his two brothers and served in the Atlantic and Pacific Ocean Theaters of World War II where he was a Signalman on the USS Hyman. Dick graduated from Ball State Teachers College on the GI Bill and received his Indiana Principal Certification at Indiana University in Bloomington. He met the love of his life, Mary Greenlee, as a fellow teacher at Weir Elementary in New Castle and they married on March 20, 1951.
In addition to teaching elementary, he served as a projectionist and stagehand in local theatre, audio/visual director at Chrysler High School, coached tennis and was the voice of Trojan High School Basketball during the 1960's. He served as principal at Sunnyside Elementary for 20 years retiring in 1988. Dick was proud of the fact that he was still coaching Tennis in his 80's.
Dick was a very active member of the New Castle community. He was a member of First United Methodist Church, Rotary International, City Council, serving three terms at-large; the Henry County Park Board, New Castle Zoning Board, New Castle-Henry County Library Board, the Indiana Basketball Hall of Fame where he was 2016's volunteer of the year; and the American Legion Post #137 and V.F.W. Post 1282, where he faithfully served in the Flag Corp. of the Veteran's Honor Guard. He also served several terms on the New Castle Community School Board of Trustees and was a charter member of the Optimist Club.
He loved Trojan and Ball State Sports, Cincinnati Reds Baseball and never missed the Army/Navy football game. Dick greatly enjoyed golf, fishing, horse racing, and travel with his family, especially to New York to attend Broadway shows.
Those left to cherish his memory include his wife of nearly 66 years, Mary Leitch; two daughters, Cindy (husband: Lynn) Perdue of New Castle and Susan Bennett of Indianapolis; two grandchildren, Lyndsey (husband: Graig) Davis of New Castle and Tyler (wife: Jenna) Perdue of Noblesville; three great-grandchildren, Leah Davis, Lyndon Davis and Reid Perdue and several nieces and nephews.
In addition to his parents, he was preceded in death by two brothers, Robert Benbow Leitch (Cincinnati, OH) and Gene Thomas Leitch (Muncie, IN).
Funeral services will be held at 10:00 am Saturday, January 21, 2017 at First United Methodist Church with Pastor Tom McGilliard and Dennis Kinser officiating. Burial will follow in South Mound Cemetery West Lawn Addition with Military Honors provided by contingents from the US Navy and the American Legion and VFW.
Friends may call from 4 – 8 pm Friday, January 20, 2017 at Sproles Family Funeral Home.
Memorial contributions may be offered to the Henry County Community Foundation or the Indiana United Methodist Children's Home, P.O. Box 747 Lebanon, IN 46052.
The family would like to thank the staff of IU Medical Center, Henry Community Health and Stonebrooke Rehabilitation Center for the excellent care they provided.
The Sproles family and staff are honored to serve the family of Richard H. Leitch.
Click here to make a contribution in memory of Richard H. Leitch Jr.