February 7, 1933 – April 29, 2023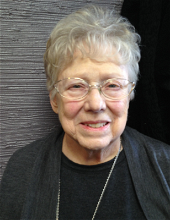 Roberta Cunningham, 90, formerly of New Castle and Knightstown, IN, died Saturday, April 29, at her assisted living residence in Fishers, IN. She passed peacefully while sleeping. Roberta was born February 7, 1933 in Tipp City, Ohio, one of 11 children born to Myrtle and Charles Calvin Dick.
Roberta received her B.A. from Milligan College (Tennessee) and her M.A. from Ball State University (Indiana). She taught elementary school within the New Castle and Knightstown School Systems for 39 years. As an educator, she taught and mentored many students. Her favorite subject to teach was reading and her least favorite part of teaching was monitoring outdoor recesses during the winter. Roberta touched many lives during her career and had many friends within the schools where she taught.
Roberta was also a pastor's wife and served with her husband, Glenn Cunningham, who pastored several area churches, including Christian Churches at Switz City, Wilkinson, New Castle, Kennard, Greenfield, Rushville and other churches in surrounding areas. Roberta was a believer and read her Bible every day until her eyesight prevented it.
Roberta leaves behind two daughters, Susie Cunningham of McCordsville, IN and Cathy Shinabarger (husband Dean) of Portage, MI. She also leaves two beloved grandsons, Casey Shinabarger (Honolulu, HI) and Jack Shinabarger (Bloomington, IN). Roberta was preceded in death by her husband, Glenn Cunningham.
A memorial service will be held at the Rose City Funeral Home 2011 Broad St New Castle, Indiana on Tuesday June 6, 2023, at 10:00 am with Dennis Kinser and Mark Champion officiating. Burial of cremains will immediately follow the service at South Mound Cemetery in New Castle.
In lieu of flowers, the family requests donations be made in Roberta's memory to the Henry County Community Foundation.