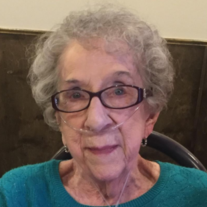 Rosemary L. Muncy, 85, of New Castle passed away Monday, January 6, 2020 at Henry Community Health. She was born March 12, 1934 in Kirkersville, OH to the late Paul and Ethel (Weaver) Williams, Sr.
Rosemary was the former president of the Eagles Auxiliary. She was a member of the Order of the Eastern Star, local, state and national office Phi Beta where she was president for 20 years. Rosemary was a member of the New Castle Bowling Association and was inducted in the Bowling Hall of Fame in 1982. She was the president of the Ambassadors Club and was very active with the Cancer Society of Henry County where she ran the loan closet. She also enjoyed the active women's group and church activities at First United Methodist Church. She and her husband, Levi loved traveling the United States on their Gold Wing motorcycle; she also enjoyed bowling and cake decorating.
She is survived by her husband of 62 years, Levi Muncy, Jr.; children, Paula (Benjamin) Timmons of Daleville and Kevin (Georgia) Muncy of New Castle; 4 grandchildren, Autumn Muncy, Matthew (Rachel) Timmons, Krista (Chris) King and Cassandra (Joshua) Weaver; 10 great-grandchildren; several nieces, nephews and cousins.
In addition to her parents, she is preceded in death by her grandson, Jeremy Timmons; brothers, Paul R. Williams, Jr. and Edward James Williams; infant sister, Nell Williams.
Services will be at 10:00 a.m. Friday, January 10, 2020 at Hinsey-Brown Funeral Service in New Castle with Pastor Roby Wood officiating. Burial will follow in South Mound Cemetery, West Lawn Addition. Visitation will be from 5 – 8 p.m. Thursday, January 9th at the funeral home. Memorial contributions may be sent to the Henry County Cancer Society c/o Henry County Community Foundation, PO Box 6006, New Castle, IN 47362. You may express condolences or share a memory of Rosemary at www.hinsey-brown.com.