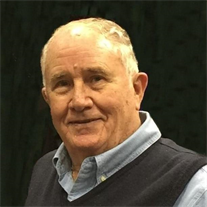 Russell H. Carter, 80, of New Castle passed away on Thursday, August 3, 2017, surrounded by his family. He was born July 15, 1937, in Monticello, KY to the late Montie and Anne (Lester) Carter.
He retired from Chrysler Corp. in 1995 after 30 years of service. Russell is a member of the Memorial Wesleyan Church in New Castle and was previously a member of Spiceland Church of the Nazerene for nearly 40 years. He enjoyed tending his garden, decorating for Christmas, and walking with his dog Banjo.
He is survived by his wife of 61 years, Leacher (Upchurch) Carter, whom he married January 14, 1956; four children Karen S. (Jack) Bimber of New Castle, Gary W. (Karen) Carter of Kissimmee, FL, Janice E. Lovell of Nashville, TN, and Don B. Carter of New Castle; five grandchildren, Daniel and Travis Carter of Orlando, FL, Hannah (Quinn) Dilley of Vilseck, Germany, Allison Bimber of McLean, VA, and Chase Lovell of Nashville, TN; two brothers Gerald Carter and David Carter, both of Monticello, KY, three sisters, Judith Dishman of Monticello, KY, Linda Doss of Muncie, Martha Sue (Gene) Alley of Monticello, KY, and several beloved nieces and nephews.
In addition to his parents, he was preceded in death by his brother, Kenneth Carter, grandson, Joseph Russell Bimber, and son-in-law, Chuck Lovell.
Services will be at 11:00 a.m. Monday, August 7, 2017, at Hinsey-Brown Funeral Service in New Castle with Pastor Paul Kirk and Rev. Gene Bennett officiating. Burial will follow in South Mound Cemetery, West Lawn Addition. Visitation will be 3-7 p.m. Sunday, August 6, 2017, at the funeral home. Memorial contributions may be sent to the Joseph Russell Bimber Scholarship Fund, c/o Henry County Community Foundation, P.O. Box 6006, New Castle, IN 47362. You may express condolences or share a memory of Russell at www.hinsey-brown.com.