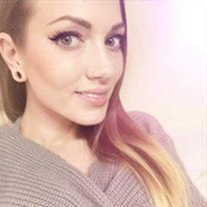 Sarah Elizabeth Maley, 34, of Knightstown, passed away Sunday, April 18, 2021 at Sugar Creek Rehabilitation and Convalescent Center following an extended illness. She was born September 15, 1986 in Greenfield, the daughter of Timothy E. and Mary D. (Camplin) Maley.
Sarah was a 2005 graduate of Knightstown High School, attended Ball State University and graduated from Cosmetology College. In high school she was active in athletics, including the track team, as well as active in the drama department. She had a beautiful voice and enjoyed the arts, including singing, music and theatre. Many of her friends, to whom she was passionately devoted, were her friends from elementary school. Sarah enjoyed interior decorating and appreciated aesthetic beauty. She had a strong determination and was uncommonly beautiful on the inside and outside.
She is survived by her father, Timothy Maley of Knightstown; two sons, whom she cared for deeply, Logan and Mason; brother, Thomas (Stormie) Maley of Denver, CO; maternal grandmother, Viola Camplin of Wilkinson; and several aunts, uncles and cousins.
She is preceded in death by her mother, Mary D. (Camplin) Maley; maternal grandfather, Forrest Camplin; paternal grandparents, Robert F. Maley and Alwine Marie Maley.
Services will be at 6:00 PM Friday, April 23, 2021 at Hinsey-Brown Funeral Service Knightstown Chapel with Pastor Joel Troxell and Chaplin Suzi Keown officiating.  Visitation will be from 4:00 to 6:00 PM Friday at the funeral home prior to the service. Memorial contributions may be made to Henry County Cancer Society, c/o Henry County Community Foundation, 700 S Memorial Drive, New Castle, IN 47362. Condolences and memories of Sarah may be shared at www.hinsey-brown.com.