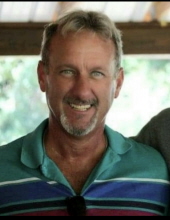 Scott Frederick Pfenninger (Fritz) of New Castle, 62, passed away unexpectedly on August 10, 2022. He was born March 22, 1960, in Bloomington, Indiana, a son of Brenda (Smith) Pfenninger and David P. Pfenninger.
He was a proud 1978 graduate of New Castle Chrysler High School where he excelled in athletics as a Varsity member of the Football, Basketball, Baseball, and Track & Field teams. He fully embraced what "Team" represented. He was a fierce competitor but always fair and congratulatory when he didn't get the win. Following graduation, he went on to study Business at Indiana University in Bloomington. Scott enlisted in the U.S. Army in July 1982. He was assigned to the 2nd INF and stationed in Fort Jackson, SC. Following completion of ROKA Ranger Training, he served overseas in Korea, with an Honorable Discharge in July 1984. Scott loved his country and community and continued to protect and serve throughout his life. He was a proud member of the Guardian Angels Safety Patrol, Indianapolis Chapter, and participated in many state and local anti-violence events.
Fritz loved sports, but it was the life lessons taught, the wisdom learned from his coaches, and the lifelong friendships formed with many teammates that fueled a passion to mentor youth. He coached many Babe Ruth and youth sports teams, and basically, any kid outside that would listen. Scott was a Big Brother for many years through the Big Brothers/Big Sisters program and was active with the Jaycees of New Castle.
Without question, Fritz loved food! As a member of The Place, a First United Methodist Church community outreach campus, he and his wife, Rhonda prepared and served meals for the Sunday Breakfast Program, Brianna's Hope, Kairos, and the Men's Guest House. They delivered meals to sheltered elderly, sick friends, strangers, or anyone they heard needed a hot meal. Fritz was well-known at the local Fire Stations where he would drop off his culinary creations to show his gratitude to their profession.
Scott was employed many years with Commonwealth Insurance where many customers became lifelong friends. He was well-known locally and never met a stranger. He supported others in their struggles and victories and loved to celebrate successes and memories with friends.
Survivors include his wife, Rhonda (Pierce) Pfenninger; his children, Kelsey (Steven) Slaven, Kerry (James) West, and Karli (Robbie) Segraves, all of Muncie; a son, Cory (Chelsea) Winkhart of New Castle; siblings, Christa Isaacs (Duane Clemens) of New Castle, Brian Pfenninger of Livingston, Tennessee, and David T. (Suzanne) Pfenninger of Carmel; his father, David P. Pfenninger of Union City, Indiana; grandchildren, Ellie and Rowan Slaven, Aralyn West, Ani, Kali and Azrael Segraves, all of Muncie, Indiana, Camden and Collins Winkhart, both of New Castle; his uncle and aunt, Don (Suzy) Smith and Cathy Smith of Byrdstown, Tennessee; aunts, Beverly (Duane) Matthews, Wanda Pfenninger, and Ada Marcum, all of New Castle; a large loving family of nieces, nephews, and cousins.
Scott was preceded in death by his mother, Brenda Smith-Pfenninger; maternal grandparents, O.B. and Virginia "Evelyn" Smith; paternal grandparents, Alvis and Dorothy Pfenninger; a very close uncle, Bill R. Smith; several other aunts and uncles.
Visitation will be held from 4:00 p.m., until 8:00 p.m., Friday, August 19, 2022, at the Place, 205 So. 21st. St., New Castle. Funeral Services will be held 11:00 a.m., Saturday, August 20, 2022, at The Place with Marc Champion officiating. Procession will follow to Memorial Park with full Military Honors provided.
A Celebration of Life for close family and friends will be held from 6:00 p.m., until 11:00 p.m., Friday, August 26, 2022, at the Cook Family Pavilion, (behind Back Porch Bar) with an open mic session to share stories and memories of Scott.
In honor of Scott's memory donations may be offered to the Henry County Community Foundation, P.O. Box 6006, New Castle, IN 47362 c/o Boys of Summer Fund (to be established). Donations may also be given personally to the family for distribution at their discretion, to local VA, homeless shelters, Big Brothers/Big Sisters, or youth sporting events.
Rose City Funeral Home directors and staff are honored to serve the Pfenninger family. Online condolences or tributes may be made at www.rosecityfunerals.com.