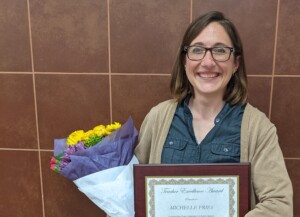 Michelle Fries, Mathematics Teacher at Shenandoah High School, is the recipient of the 2021 Teacher Excellence Award.  Fries was awarded a certificate of recognition on May 5, 2021 from the Henry County Community Foundation.
Fries was nominated by three of her students, who all spoke highly of her outstanding commitment to their education that embodies the spirit of the award.  As one of her nominators said, "Mrs. Fries has an amazing impact on her students.  She is always prepared and ready to tackle the day with whatever obstacle comes her way."  Another nominator echoed this sentiment, stating "Mrs. Fries is one of the most optimistic people I've ever met.  During these hard times, she always keeps her best foot forward, no matter what the day brings."
As Covid interrupted the typical school day for all students, Fries was also recognized for her perseverance and determination to help her students succeed, whether virtually or in the classroom.  Students appreciated her videos for every lesson, as well as the ongoing Zoom calls that allowed them to join at any time.  Her joyful attitude and grateful demeanor kept spirits high during a difficult time, and as one of her nominators stated, "I have noticed extreme gratitude and care from Mrs. Fries as the pandemic occurred.  She put herself out there to give her students the learning they needed."
The Teacher Excellence Award is the highest honor the Foundation can bestow on an individual in education. The honor is designed to recognize teachers who have demonstrated an outstanding commitment to inspire students to reach for difficult and lofty goals.  Nominees must also have earned the respect of students, parents and peers through sustained effort, as well as contributed to the likelihood of enduring beneficial effects on the students with which they have worked.
Any current, full-time educator of a public school within Henry County was eligible for nomination and the winner was selected by judges who are or have been teachers outside the county. This year, five exceptional teachers were nominated for the award, which is sponsored by an endowment at the Foundation.