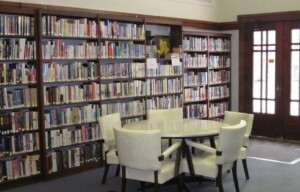 Libraries are a great resource to their communities. Beyond books, research materials, and equipment rentals, they exist as a safe space for citizens and offer a variety of engaging programs for people of all ages.
Beth Carr has lived in and around Spiceland her entire life, and she has seen the great work of the Spiceland Library over the years. She grew up spending time at the library and taking part in their programs. She carried on that experience for both her children and her grandchildren. So, when she was asked to join their board, it was an easy yes.
"It's a vital part of the community. We have lots of regular patrons. It's really important that we can keep everything going," shared Beth.
As a smaller library, the funding to keep operating can be hard to come by. That's where gifts like a yearly payout from a designated fund at the Henry County Community Foundation can make a difference.
The Charles and Kathleen Painter Friends of the Spiceland Library Fund serves just that purpose.
Beth expressed, "The funding from the Foundation makes it easy for us. It takes care of our concerns. It's there for our kids programs in the summer and after school. It helps us serve the community!"
Do you have an organization that's important to you? You can make a difference by setting up a designated fund to provide endless support for them!