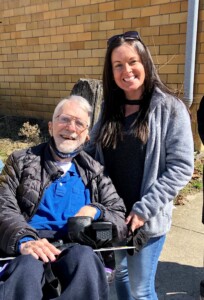 Spirit of Generosity Carries on Through Scholarship
By: Amber Estelle
If you were to ask me about some of my very favorite things from working at the Foundation this year, I would have to include the day I met Ray and Karen Pavy. Having never met them, I knocked on their door and introduced myself and my position with the Foundation. They warmly invited me in and insisted I sit on their couch and tell them about myself.
Throughout our conversation, Ray and Karen were full of light and encouragement. They both have such a way of making a person feel seen, known, and welcome. If I had to guess, I'd say that might be why a group of people from Henry County came together to start the Ray Pavy Spirit Scholarship.
Education has always been important to Ray and Karen. They retired after 66 years combined of impacting youth through teaching and administration. This scholarship is a perfect tribute to Ray's life of education.
Ray continued contributing to local education through time spent volunteering with the Foundation on the Scholarship Committee and the Board of Directors. Though he is no longer serving the Foundation in this way, he is still making a difference in the community through the Ray Pavy Spirit Scholarship.
While Ray wasn't involved in the initial opening of this scholarship fund, he enjoys being a part of the process now. He shared, "I like to see students obtain degrees and certificates. We love to see people receive the chance to get a job by furthering their education. We've been eating out before, and someone would come up and say, 'Thank you! I got my degree with your scholarship!'"
Over the years, Ray and Karen have had the opportunity to see students thrive through the scholarship. They've even been able to form a special bond with one of those students, Kendra Kennedy.
Kendra is a 2005 graduate of New Castle High School. She was born and raised In New Castle and went straight into the workforce after graduating. She shared, "I knew I wanted to further my education. So, I started applying for scholarships through the Foundation. And I was chosen as a recipient of the Ray Pavy Spirit Scholarship. It helped tremendously with tuition, books, and other fees. It furthered my career and allowed me to graduate without debt!"
For the last nine years, Kendra has served the community through her job at the Mayor's office. With the business degree she earned at Ivy Tech, she has been able to enhance her career. She's thankful that the scholarship enabled her to stay local for her continued education and notes that it has tightened her bonds with the connections she already had here.
Beyond all the traditional benefits of receiving a scholarship through the Foundation, Kendra now sees Ray and Karen as extended family. After Mayor Greg York introduced Kendra to the Pavys at a community event, they've continued a growing friendship. "Ray and his family are near and dear to my heart! They are true gems in the community. Ray has a personal, caring connection with family and friends." she expressed.
It's that caring spirit that the original donors to the Ray Pavy Spirit Scholarship Fund wanted to carry on. They knew they would be continuing the legacy of Ray by helping local students. What they may not have realized is that it would be more than just a scholarship. It would also open up a door to new friendships and personal connections.
Share Your Story through a scholarship fund to support students as they pursue their dreams.  Whether you open a scholarship fund to support preschool children or vocational and college post-secondary students, you invest in our community's future.
How does it work?          
Select a name for your fund after your family, business, or in memory of someone special.
Establish your Scholarship fund with a minimum of $25,000.
Choose the criteria used to select a student that best fits your values.
Gifts are invested and stewarded to provide an annual scholarship.