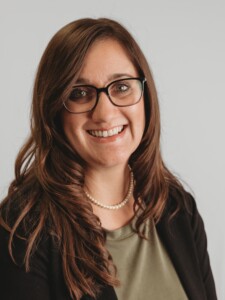 Communication and Donor Engagement Manager
When I was young, my family moved away from Wisconsin to this town in Indiana called New Castle. Because I was so young when we left, I've always considered Henry County to be my home. We were far away from family and friends, but neighbors took us in and became my surrogate grandparents. Church members welcomed us with open arms and treated us like family. It was here in New Castle that I first experienced what it means to be part of a community.
I graduated from New Castle High School in 2006. Throughout high school, I was involved in extra-curricular activities including sports, music, speech, and outreach. During that time, my heart for this town grew, and I knew I wanted to be involved in a brighter future here.
After high school, I went on to graduate from Taylor University with a degree in Psychology and minor in Sociology. I used that background in positions as a behavioral therapist, pre-school teacher, and home daycare operator. I have also spent time in the last five years working with WholeHeart Communications, engaging with local organizations through social media and sharing stories.
I married my high school sweetheart, Nick Estelle, during college. Together, we decided that we wanted to come back to our hometown and contribute to positive changes. Since moving back, we have had three children, Helen, Hazel, and Emmet.
Once I decided it was time to start exploring full-time career opportunities in the area, I found the perfect position at the Community Foundation. I am thrilled about the chance to use the skills I've been learning to do good work for the community that I call home. I'm looking forward to what this position has in store for me and for Henry County, and I'm thankful to be a part of the team that is continuing to carry on the impact of this organization.
Fun Fact: I am a born and raised Packers fan. I was cheering them on to a Superbowl victory as a kid in the 90s with Favre leading the way, and again as an adult in the 2000s with Rodgers leading the way. My favorite player was the minister of defense, Reggie White. We've made a habit of watching games together with my family, often eating the traditional brats and sauerkraut. And I checked an item off of my bucket list when we got to watch the Packers win at Lambeau Field a few years ago.