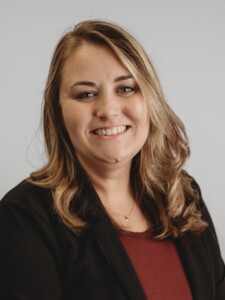 Henry County has been my home since birth. I grew up here, was a Girl Scout, a 10 -year 4-H member, graduated high school, met my husband, and now we have decided to raise our family here, in Henry County.
I graduated from Tri High and received my bachelor's degree in Business Administration from Indiana University East.   My husband, Dusty, and I have been married since 2017 and we have 2 daughters, Myah and Emersyn.
While attending IUE, I worked at Montgomery Steakhouse and met so many amazing people from our community during the five years I was employed there.  It showed me there are many people who truly love this county. After I graduated from IUE, I took a position with Conduent, where I helped process applications for Indiana's Family and Social Services programs, and assisted Indiana hospital navigators with their clients and applications.
I have been with the Foundation since 2019 and love being a part of all the great work that is done here. I have enjoyed being able to help our local students with the financial assistance they may need for furthering their education, which may potentially add to the Henry County work force. This assistance is made possible through HCCF scholarships that have been generously created by individuals who hold Henry County students in their hearts. I am looking forward to the upcoming years and the opportunity to be a part of the big things in the future of our county.