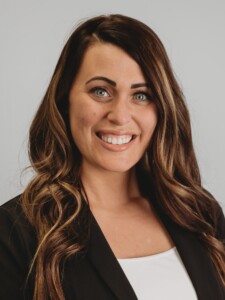 Office Manager and Accounting Assistant
My family originated in Connecticut, but my mom and I made our way to Indiana. I grew up in Greenfield, went to St. Michael's Catholic School, and graduated from Greenfield-Central High School. I continued my education at IU Kelly School of Business, where I received a Bachelor's degree in marketing.
Since graduating, I have spent time building a career as an entrepreneur. I enjoyed starting a restaurant and working in sales at Monarch Beverage and later at Draper Inc. Throughout my time in these positions, I got involved in the community of Knightstown. Our restaurant hosted multiple fundraisers. I met amazing people and made great contacts and lifelong friends. My knowledge of Henry County grew while my love for the community evolved.
I officially made Henry County my forever home eight years ago when I met my husband, Jake. He is a local farmer, and I enjoy helping out on the farm and supporting him when it is needed. We plan to spend the rest of our lives here and hope to raise a family in this community.
I'm looking forward to working at the Henry County Community Foundation. I am proud of the amazing work that HCCF does, and I want to be a part of it.  I'm excited to use my accounting and business management skills to provide office support while carrying out the mission of the HCCF. Coming to work doesn't feel like just a job; it feels like I'm fulfilling a purpose.
FUN FACT: I enjoy traveling and love the beach. I love trying new restaurants and meals when I'm on vacation. But when I am home, I like baking and trying new recipes.
And, of course, spending time with my rescue animals, my cat, Roxanne, and my dog, Zoey.