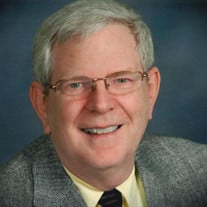 Stephen E. Dyer, 81, of New Castle, passed away Wednesday, May 31, 2023 at Glen Oaks Health Campus. He was born July 7, 1941 in New Castle, a son of the late John E. and Elizabeth Ann (Vogel) Dyer.
Steve graduated in 1959 from St. Meinrad High School and attended seminary at St. Meinrad Abbey. He received a Bachelor's degree in Economics from the University of Dayton in 1964. He owned and operated New Castle Tire Store for a total of 33 years, and then was employed with Goodwin Bro's. Auto for over 17 years.
A lifelong member of St. Anne Catholic Church, Steve has served on the Parish Council, created and monitored the church website, served as usher, the Finance Committee and assisted with the RCIA program. He was also a member of the Knights of Columbus. A member of the New Castle Lions Club for over 40 years, he had served as President, Treasurer, District Chairman, and was named Lion of the Year.
Following retirement, Steve enjoyed traveling throughout the U.S., working in his flowers, completing puzzles and framing them, and watching sports, especially I.U., Colts, and Notre Dame. When his children were in school, he was an avid New Castle Trojan fan, never missing a basketball game at the Fieldhouse. He loved computer technology, was self-taught, and whatever the problem, could fix it quickly.
He leaves to cherish his memory, his wife of nearly 56 years, Janet Dyer of New Castle; two children, Jennifer (Todd) Martin of La Grange Park, IL, and Patrick (Stephanie) Dyer of Anderson; grandchildren, Chase Martin, Fletcher Martin, Preston Dyer, and Clark Dyer; two sisters, Janis Troxell of Indianapolis and Mary Lou (Thomas) Oxley of Dayton, OH; a sister-in-law, Jan Dyer of MN; two nieces and two nephews.
In addition to his parents, he was preceded in death by a brother, Tony Dyer in 2014, and an infant sister, Clara Ann Dyer in 1954.
Mass of Christian Burial will be at 10:00 a.m., Monday, June 5, 2023 at St. Anne Catholic Church in New Castle with Father John Hall officiating. Burial will follow in St. Anne Cemetery. Visitation will be from 4-7 p.m. Sunday, June 4, 2023 at Hinsey-Brown Funeral Service in New Castle, where a Rosary service will take place at 7:00 p.m.
Memorial contributions to St. Meinrad Abbey,200 Hill Dr., St. Meinrad, IN, 47577, and the Henry County Heart Association, c/o Henry County Community Foundation, P. O. Box 6006, New Castle, IN 47362. You may share condolences and memories of Steve at www.hinsey-brown.com.
To send flowers or a memorial gift to the family of Stephen E. Dyer please visit our Sympathy Store.