Steven Charles Thompson, 74, of New Castle, died Tuesday, February 15, 2022, at IU Health Ball Memorial Hospital in Muncie.
He was bor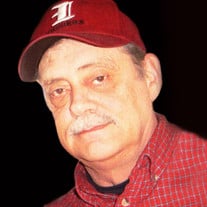 n on May 22, 1947, in New Castle, Indiana, a son of the late Samuel Thompson and Mary (Hammond) Purcell.
Steve was a 1965 graduate of Blue River Valley High School where he played baseball and basketball. Steve worked for Chrysler Corporation for 38 years. He enjoyed playing sports throughout his life, being home, and spending time with his beloved dog, Max.
Those left to cherish Steve's memory include his wife Karen (Hagerman) Thompson, whom he married on May 10, 2002; a son, Steven C. Thompson, Jr. of New Castle; a step-son, Jason Hunnicut of Muncie; a daughter, Heather (Jack) Obregon of Arizona and her three children; two sisters, Sue (Dennis) McGrady of Noblesville and Joetta Pitts of Indianapolis; four brothers, Brad (Lynn) Thompson, Eric (Cheryl) Thompson, and Greg (Stacy) Reid all of Florida, and Scott (Kristia) Purcell of Virginia, along with several nieces and nephews.
In addition to his parents, Steve was preceded in death by his grandparents, King and Sarah (Stockton) Thompson and George and Harriet (Ross) Hammond.
Funeral services will be held at 1:00 pm Monday, February 21, 2022, at Sproles Family Funeral Home with Pastor Paul Davis officiating. Cremation will follow.
Friends may call from 11:00 am until the time of service on Monday at the funeral home.
Memorial contributions may be offered to the Henry County Community Foundation Flex Fund by Clicking Here. You may send the family a personal condolence at www.sprolesfamilycares.com.
To send flowers or a memorial gift to the family of Steven Charles Thompson please visit our Sympathy Store.