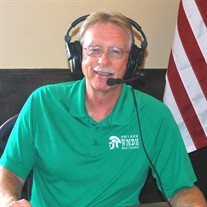 Steven K. Auten, 66, of New Castle, passed away Thursday, February 7, 2019 at Glen Oaks Health Campus. He was born June 11, 1952 in Henry County the son of Eugene and Patricia Auten.
Steve retired from Gardens of Memory in Muncie. He worked in new and used car sales and insurance most of his life. He began his career teaching and coaching at Knightstown High School and later in Illinois. Steve was a long time sports broadcaster and received the IHSAA "Media Service Award" for 2018 and 2019. Steve was the play by play announcer for New Castle Trojans where he was known as the "voice of the Trojans" and also Henry County sports for over 20 years. He coached Babe Ruth Baseball and led the 1980 13 year olds to the State Championship. He was a 1970 graduate of New Castle Chrysler High School and earned a Master's Degree from Ball State University and a member of Sigma Chi. Steve was also a member of the Ball State football team. He was an avid golfer as well as a Cincinnati Reds and Indianapolis Colts fan.
He is survived by two daughters, Lindsay B. Auten of Boston, MA and Shannon K. Auten of Ft. Collins, CO; a brother, Richard L. and his wife Marbella Auten of Houston, TX; and former wife, Paula Auten of New Castle.
Services will be at 11:00 a.m. Tuesday, February 12, 2019 Hinsey-Brown Funeral Service in New Castle with Pastor Dennis Kinser officiating. Burial will follow in South Mound Cemetery, West Lawn Addition. Visitation will be from 4-8 p.m. Monday, February 11th at the funeral home. Memorial contributions may be made to New Castle Babe Ruth Baseball League 1957 Fund through the Henry County Community Foundation, 700 S Memorial Drive, New Castle, IN 47362. Condolences and memories of Steve may be shared at www.hinsey-brown.com.