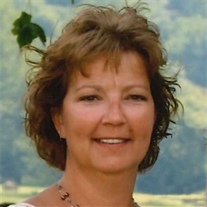 Tammy J. Hankenhoff, 58, of New Castle passed away Thursday, June 1, 2017 at St. Vincent Hospital in Indianapolis. She was born October 21, 1958 in Milan, IN to the late Henry Allen and Juanita (Brooks) Pribble.
She was previously employed at Fujitsu Ten in Rushville for 20 years and currently employed at Keihin Corp. in Greenfield. Tammy was an avid dog lover and especially loved her dog Diesel. She enjoyed country music, spending time at "the river", laughing with friends, boating, traveling, gardening, and spoiling her grandchildren.
Tammy is lovingly remembered by her husband of 40 years, Hurshel "Hank" Hankenhoff whom she married January 15, 1977, sons, Casey (Kim) Hankenhoff of Greenwood; Jon (Lauren) Hankenhoff of Fishers; five grandchildren, Kiley, Courtney, Drake, Lainey, and Porter, two brothers, Gary (Beth) Pribble of Kennard and her twin John Pribble of New Castle, two sisters, Linda (Mike) Wrightsman and Kathy (Michael) Holmes both of New Castle, several nieces, nephews, and a host of friends including her best friends, Susie and Kelly McClure of Rushville.
Celebration of Life will be from 4 – 8 p.m. Wednesday, June 7, 2017 at Hinsey-Brown Funeral Service in New Castle. In lieu of flowers memorial contributions may be sent to, Carl and Katie McClure Memorial Scholarship, c/o Henry County Community Foundation, PO Box 6006, New Castle, IN 47362, or Jessy L. McClure Memorial Scholarship Fund, c/o Rush County Community Foundation, 117 N. Main St., Rushville, IN 46173, or Henry County Humane Society, 11 Midway Dr., New Castle, IN 47362. You may express condolences or share a memory of Tammy at www.hinsey-brown.com.
Click here to make a contribution in memory of Tammy J. Hankenhoff