By Amber Estelle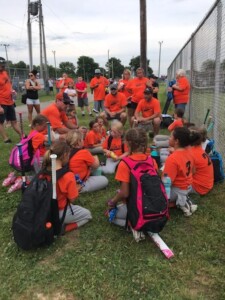 When Henry County community member, Josh Estelle, became involved with the New Castle Youth Girls Softball League, he immediately noticed a need and he came to the TASC (Teens About Serving the County) Youth Grants Committee for help. 
The New Castle Youth Girls Softball League serves girls ages 5-14 in Henry County. This year the league included over 150 local girls. This was Josh's first year to be involved. He shared, "I was fortunate enough to coach a minor league team with my daughter. We had 14 girls on the team. Of those 14, 13 of them were new to the game of softball."
There is a fee for girls to join the league. The cost was $65. Several of the girls required assistance with that fee to be able to play. Along with that, the league requires that girls have an infielder's facemask, a glove, a helmet, a bat, and other gear. "While some of these things can be shared, several of these items cannot be shared, especially with Covid. The bats that were provided by the league were minimal and damaged," Josh explained. 
During normal circumstances, the league can generate funds through hosting tournaments before and after the season. Due to Covid in 2020, those events were unable to take place. So, the finances of the league were strained. Josh saw the need, and he saw the lack of funding to provide for the need. At that time, a TASC grant cycle was open. 
Teens About Serving the County (TASC) is a committee of students from all Henry County Schools. It includes one freshman, one sophomore, one junior, and one senior from each of the five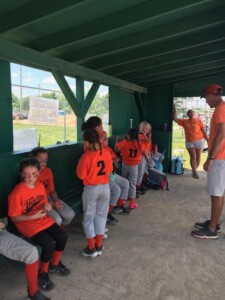 school districts. Rex Peckinpaugh currently serves as the Youth Grants Chairman. Rex, along with Susan Falck-Neal and a Foundation representative, oversees the process to ensure the basic parliamentary procedure is followed. 
TASC meets four times each school year, twice in the fall and twice in the spring. The TASC Committee critically evaluates each grant submission for purpose, scope, need, and viability. They then determine whether each grant will be accepted, partially funded, accepted with conditions, or denied. The TASC Committee grant recommendations are then taken to the Henry County Community Foundation, Inc. Board of Directors for final approval. Each submission must benefit the youth of Henry County.
After the league received the funding for the necessary equipment, they could carry on with their season and keep girls prepared, equipped, and safe. Josh expressed, "this grant helped ease that burden. Our girls had a blast, and I think many of them fell in love with softball in their first experience. They all could meet and make friends they likely wouldn't have otherwise through school and other sports.  It was a very rewarding experience for us as coaches to see that happen through softball." He went on to share, "all of these things along with life lessons and experiences, couldn't have happened without the generosity of the Foundation and TASC Youth Grants Committee."