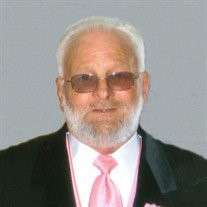 Ted A. Garner, 73, of Mooreland, passed away Sunday, November 24, 2019 at his residence following an extended illness. He was born October 19, 1946 in Clinton County, KY, a son of the late Odell and Opal (Cross) Garner.
Ted retired from the Box Factory in New Castle and then retired from the City of New Castle. He had also worked at Brooks Foods in Mt. Summit. He enjoyed working on cars, watching NASCAR, and basketball. He also enjoyed fishing, watching Westerns, and spending time with his friends and family.
He is survived by his wife of over 48 years, Marilyn Frances Garner of Mooreland; children, Kim (Dan) Morgeson of New Castle, Angie Garner of New Castle, Anita Parrish of Mooreland, Wayne Pennycuff (Kevin Troxell) of New Castle, Michelle (Joe) Haskett of Spiceland, and Ted A. "Teddy" Garner Jr. (Jennifer Stewart) of Mooreland; a special friend, Peggy Sue of New Castle; grandchildren, Justin (Samantha) Guhr of Schereville, IN, Eric Morgeson of New Castle, Amanda Short of New Castle, Aaron (Brandy) Lewis of Salem, IN, Taylor (Rico) Pennycuff of Lafayette, IN, Tiffany (Brock) Perdue of Spiceland, James Haskett (Abby Alvey) of Evansville, Billy (Sam) Haskett of Knightstown, Brianna Garner of New Castle, Victoria Garner (Dallas Haskett) of New Castle, and Molly Garner of Kingford, IN; brothers, Jerry (Sheila) Garner and Jeff (Tammy) Garner, both of New Castle; several nieces and nephews.
In addition to his parents, he was preceded in death by a granddaughter, Carmella Garner; a grandson, Casey Parrish; two brothers, James and Cecil Garner.
Services will be at 1:00 p.m., Wednesday, November 27, 2019 at Hinsey-Brown Funeral Service in New Castle with David Brown officiating. Burial will follow in Mooreland Cemetery. Visitation will be from 4-8 p.m., Tuesday, November 26, 2019 at the funeral home. Memorial contributions may be made to Henry County Cancer Society, c/o Henry County Community Foundation, 700 S. Memorial Dr., New Castle, IN 47362. You may share a memory or condolence at www.hinsey-brown.com.